Summer time here, which means it is the time for picnics and outdoor play.
But when the mosquitos are out, it can quickly hinder one's ability to have fun – especially once you've experienced the first bite of the evening.
If you're like me, I may feel like I only received one bite, but I then wake up in the middle of the night to find out that the mosquitoes had attacked me, and I'm now searching for the closest itch cream.
Many swear by mosquito sticks and claim they offer instant protection. In this article I'm going to share my own hands-on experience with you (and give you some helpful tips).
What are mosquito sticks?
Mosquito sticks offer a simple way to protect your yard from mosquitos.
To best repel mosquitos, simply light the repellent sticks on your patio or deck, or in your yard, approximately ten minutes prior to partaking in outdoor activities.
Set-up several sticks around your area of use, and space them at least 12 feet apart.
Most sticks, such as the Murphy's Mosquito Stick, are held down at an angle and then the end is lit. Simply let the end flame for about ten seconds, and then blow it out.
At this point, the repelling incense will come from the end of the stick, and you can now place the stick into the intended position.

My Top Pick: Murphy's Mosquito Sticks
These sticks are a popular new way to ward off those nasty mosquitos.
Do not insert the sticks right into the grass, as it is important that the green incense does not come into content with the soil or grass (this is a fire hazard).
Instead, insert the sticks into a container that is filled with dampened sand or soil. This will keep the stick from coming into contact with the ground.
If you have children or pets, it is important that you do not leave the burning incense stick unattended as these items can cause harm when not handled correctly.
The Murphy's sticks have received some positive press recently from TODAY. These sticks are natural and plant-based, which means they are much better for the environment.
Not only that but when you buy this product, a donation will be made by Murphy's to select good-will organizations around the globe.
Further, these sticks do not contain any DEET, and many parents of young children prefer products that do not contain DEET, as the chemical is toxic if swallowed.
When should you use mosquito sticks?
Mosquito sticks come in very handy for use at picnics and at any outdoor activity. These sticks burn for just over two hours on average, so in most cases, one pack of sticks will burn for the typical length of an early evening picnic or game of kickball (when mosquitos tend to make themselves known).
What are mosquito sticks made from?
In the case of Murphy's Mosquito Sticks, they are made from three essential oils: citronella, lemongrass, and rosemary. These oils are blended with sawdust, which then creates the actual sticks. Not only are these sticks effective at repelling mosquitos, but they smell great too!
Another mosquito stick recommendation
If you're looking for another mosquito stick option, the Mosquito Guard Repellent Sticks are another great option.
These are made from the same essential oils mentioned above, and also come 12 in a box.
However, the key differentiator is that they are about half the price of the Murphy's brand.
These are constructed in much the same way, last the same amount of time, and are also DEET and alcohol-free.

My Budget Pick: Mosquito Guard Repellent Sticks
These sticks are half the price of the Murphy's brand.
What does the CDC say about DEET?
Though the Murphy's Mosquito Sticks do not contain DEET, I think it is important just to address the topic of DEET with some detail.
The Centers for Disease Control and Protection (CDC) have indicated that DEET is not harmful provided the directions on the label are followed and the product is used safely.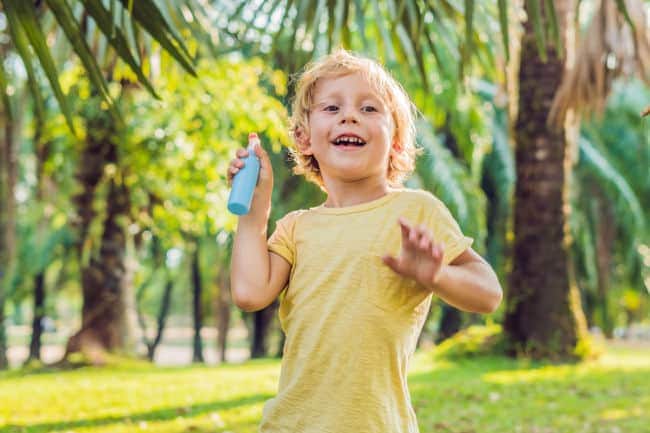 This said, for some people, using DEET can result in a skin rash, so it is always best to try DEET on a small section of the skin for the first use and give it time to see if there is a bad reaction.
If after a short bit of time you do not see any rash or blisters, you should be good to go.
Of course, if you do experience a skin reaction, it is important to seek medical attention right away.
I am a strong advocate of DEET-based mosquito control sprays. I understand that there is a lot of controversy on the topic, but numerous studies have been done, and in the vast majority of cases, DEET has been proven to be harmless, as long as the product is used correctly.
An added layer of mosquito protection
I believe that to best protect yourself from mosquito bites, using a topical anti-mosquito lotion or spray in combination with the proper yard placement of mosquito sticks makes for a superior solution.
And if you are still wary of using a DEET-based lotion or spray (although you shouldn't be!) there are effective natural products available.
If you are interested in an all-natural mosquito repellent for people, then I do suggest giving the Bug Soother brand a try. Not only is this product DEET-free, but it also has an amazing lemongrass smell… pleasant to us, but definitely a turn-off to those pesky mozzies.
This is a great product to use when fishing, hiking, biking, golfing, or picnicking in your back yard.
A combination of a DEET-free mosquito repellant spray and DEET-free mosquito sticks will help make your yard more people friendly so that you can get outside and play longer.
I hope you enjoyed this article. Be sure to check out my guide on natural mosquito repellents.
Hi! My name is Mark and I'm an outdoor freak.
Visiting many exotic places around the world allowed me to gain some knowledge about effective mosquito control. That's why I decided to start this site and give you in-depth reviews regarding the best repellents and traps.
And yes, you may call me Mosquito Mark.