If you are like me, you probably hate to see a baby in distress.
Their cute little cherub cheeks and those big blue eyes are such a delight when a baby is happy, but not so much when they are all scrunched up because your baby is in pain.
And unfortunately, pesky mosquitos will love your baby as much as they love you. So, it is important to protect your baby from nasty bug bites.
In this guide I will give you an overview about effective anti-mosquito strategies and my field-tested recommendations.
Recommendations by doctors & experts
There are varying opinions from doctors on when you can apply mosquito repellent to a baby's skin.
And, the American Academy of Pediatrics (AAP) recommends that you avoid the use of DEET-based products if your child is younger than two months.
For older babies DEET is generally considered safe – however, there's a caveat. Many young children touch their mouth with their fingers. This way they could accidentally eat the repellent, so be sure to supervise the use of DEET all the time.
Sprays vs. Wipes
Another great tip is to look out for mosquito repellent wipes. While sprays are my favorite choice for most areas of the body, repellent wipes shine when you want to protect your baby's face.
Even some grown-ups prefer the convenient application of those products. They are less messy than liquid solutions.

Off! Deep Woods Insect Repellent
12 individually wrapped towlettes

Convenient to carry around
Repels many kind of bugs
If you still have doubts regarding DEET, there are some viable alternatives out there:
Picaridin
Picaridin is a new alternative(it works as effective as repellents with the same amount of DEET).
For those who are worried about the most established insect repellent this might be the right choice.
Picaridin causes less side effects and smells nicer than sprays with DEET. From my experience though you have to apply it more carefully.
If you miss one spot it seems to be less forgivable than DEET.
Sawyer Products SP544 Premium 20%
This spray with Picaridin is a great replacement for lower concentrated repellents with DEET.
Sale

Sawyer Products SP544 Premium 20%
Effective up to 6 hours
Safe to use on the whole family
repels disease-carrying mosquitoes and ticks
A great alternative for all parents who are worried about the possible side effects of DEET. The active ingredient Picaridin is approved by the EPA too.
Unfortunately, there aren't really any home remedies that you can create yourself to protect your baby from mosquitos altogether (unless you want to sprinkle your yard with garlic juice – it will likely work, but it will be very smelly).
The best way is really to avoid them altogether.
The golden rules
Stay in – While this might not sound like a whole lot of fun, staying in is the best way to protect your very young baby. If you do want to venture outside, go during the mid-day, as mosquitos are most active at dawn and at dusk.
Protect your home – In the summer time, our homes benefit from fresh air. So, if you want to keep your windows open, make sure that they are covered by a properly fitted window screen. Check your screens periodically as well as tears and small holes that can be penetrated by a small insect.
Keep your baby properly clothed – Make sure that bugs can't get to your baby's skin. While it is important not to overdress your baby, in the least outfit them in loose fitting pants and a shirt, socks, and a sun hat. Know too that bugs are attracted to bright colors and flowery prints, so avoid those when venturing outside.
Avoid smelly lotions – Be sure that you do not rub scented baby lotions on your baby before outdoor adventures, as mosquitos will be drawn to the scent. It is best too if you avoid wearing perfumes or scented hairsprays, especially if you will be nearby or holding your baby frequently.
Now that we've covered the basics, I want to introduce you to my first layer of protection. It's cheap, completely free of chemicals and easy to use:
Protect your baby with a mosquito screen
If you do want to get outside and enjoy the day, consider an insect screen for your baby's stroller or car seat.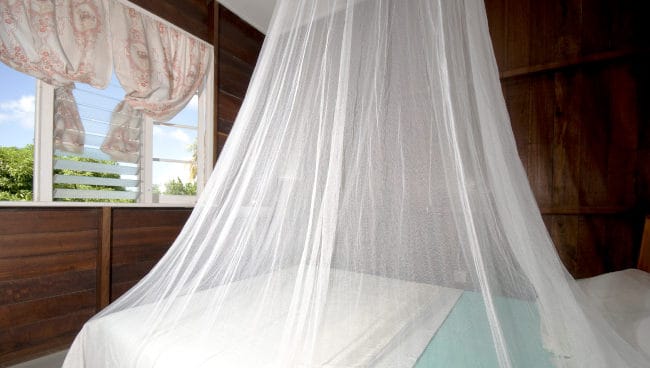 Mosquitos can make their way into the smallest of spaces, so when you install one of these screens, it ensures that the mosquito can't reach your baby when she or he is sleeping or playing. In states and countries where mosquitoes are quite abundant, mosquito nets offer an excellent source of protection. Of course, if you are hanging out in the backyard, be sure to use a mosquito lantern or mosquito sticks for added protection.

My Suggestion: Protect your baby with a mosquito screen
These mosquito screens will help protect your baby from mozzies while they are enjoying time in their stroller, play yard, or car seat.
Children 3 years of age and up can use essential oil products
As the AAP indicated, you can start using lemon and eucalyptus-based products once your child is three years of age.
But remember that expressed lemon applied directly to the skin can be an irritant, so don't think that just because you can use an essential oil that uses distilled lemon, that you can create a home remedy with an actual lemon. So, only use a product that has been designed (and tested!) for use on your young child.
Sale

My Pick for Babies 3 and Older: Try a lemon and eucalyptus-based lotion
Murphy's offers a DEET-free and plant-based pump spray that is great for your toddler aged 3 or older.
Older children can use DEET-based products which are highly effective for mosquito protection. Check out my guide here: Mosquito repellents for kids.
But if you still want to stay lotion or chemical free, be sure to keep reading as later on in this article I talk a bit more about chemical-free alternatives as well as the benefits of essential oil blends.
Non-lotion-based alternatives for baby-friendly mosquito repellents
If you are an outdoor enthusiast like me and want to get out with your newborn baby to enjoy the wilderness, you will need to look for a non-lotion alternative.
I'm a big fan of mosquito-repelling gadgets that can be clipped on a stroller and used in conjunction with a mosquito screen. In particular, my mom friends are fans of the KKPOT Baby Mosquito Bug Repellent 3 Pack Outdoor Natural Plant Insect Repellent.
This item is small and lightweight, and even better, it is 100% natural and plant-based, and it is also DEET-free. The solution is made from a combination of essential oils such as citronella, chamomile, and peppermint.
This product is actually recommended for people of all ages, and not just babies and it is convenient because it will last for 60 days, getting you through most of the summer months.
When the product stops working, you simply discard it and start a new one, which means you don't have to worry about messy cartridges that you might displace or break during installation.

My Pick For Outdoor Protection: KKPOT Baby Mosquito Repellent

These convenient clips can be clipped onto your toddler's shoes, the stroller, or your diaper bag.
Now, if you need indoor mosquito protection, there are a variety of ultrasonic mosquito repellent devices on the market. I like the .
This product does double-duty as a night light which makes it extremely practical. Just a note from my experience though is that this product can sometimes draw insects to you with the first bit of use.
Recommended: Check out this guide on indoor mosquito traps, where I recommend more effective ones like buzzers (not pratical with a baby!).
This is because it is pulling those bugs out of hiding. But, don't worry as this will only last for a short period of time. Before long, your baby's room will be free from mosquitos as well as spiders and roaches.
And, this item will also help to keep mice and rats away, which is very beneficial in older homes that tend to experience visits from mice more frequently.
The cool thing with this item is that you don't need batteries and you don't need to buy replacement cartridges or anything like that. You just plug the electromagnetic pest repeller into the wall socket and hold the button down for three seconds. Then, you're good to go.
Reducing the risk of mosquitos without chemicals
If you want a natural way to reduce the risks of mosquitos in your yard and either want to augment the use of a mosquito lantern, or want to stay chemical and electricity free altogether, there are some options.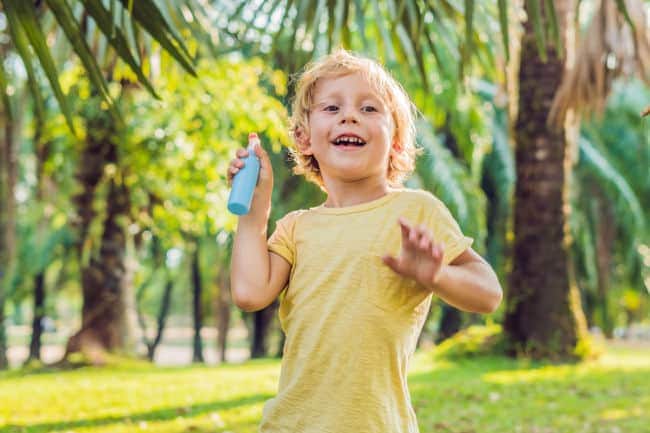 However, this will require quite a bit of work and diligence on your part to keep the mosquitos at bay. Unfortunately, there really is no one and done solution for mosquito control.
Eliminate the places where mosquitos breed – Start by minimizing the amount of standing water on your property. If you have a birdbath, now might be a good time to get rid of it, or empty and cover it until your child is older. And if you have spaces of your yard that hold water quite often, you might want to work with a landscaper to level the land or to add you an in-ground drainage system which can open up the soil and allow water to drain into it
Use a natural mosquito larvicide – The Mosquito Magician Concentrate is made from a non-toxic blend of six essential oils. This mixture uses citronella oil, garlic oil, rosemary oil, lemongrass oil, cedarwood oil, and geraniol oil.
Now, I know that I mentioned earlier that there really isn't much you can make for a home remedy, and you may think I am contradicting myself here.
But really, to make the gallon bottle of larvicide with oils that you can purchase at home and then mix together, you would likely spend far more than what you can get here with this single purchase.
With this product, you can use it around your home, garden and yard, patio, or pool and the barrier will last for one to two weeks. Then, just mix four to six ounces of the Mosquito Magician concentrate with one gallon of water, and you will be ready to apply.
To apply, you will need a pump or battery sprayer, fogger, hose driven sprayer, or a commercial backpack fogger.
What to do if your baby is bit by a mosquito
So, I am not a medical expert, but I will tell you that if your baby experiences a mosquito bite and they start to show a rash or spike a fever, it is important that you seek medical attention promptly.
Like adults, most babies will be just fine after recovering from a bug bite, but there are extreme situations, especially when your baby's immune system is still developing.
If you see a rash and it starts to spread, or your baby starts to act lethargic, please do not wait. Follow your intuition and bring your child to the doctor if something seems like it is not right.
In most cases, however, a mosquito bite is not a concern for your baby or child. Most bites will look like a red, raised bump. Because your little one can't tell you that they have been bit by a mosquito, and can't quite understand the natural tendency to itch, if you or other adults and older children are itching from mosquito bites and your baby has some red bumps, you can naturally assume that these bites are from mosquitos.
If your baby gets bit and experiences minor irritation, I suggest using an all-natural bite relief product to help stop the itching. As with anything, especially for your baby, be sure to check with your doctor. However, I have found that MOMiN USDA Organic Herbal Mosquito Insect Bite Relief, All Natural Essential Oil, Roller Ball Head Design, Easy to Use and Carry, 0.4 Oz is mild and soothing, and safe for baby.

My Pick for Outdoor Protection: MOMiN USDA Organic Herbal Relief
This product is 100% natural and made from essential oils.
Home remedies to soothe the itch
If you prefer to try a home remedy to soothe your baby's itch, you can try applying a cool washcloth to the bite. Apply firm and direct pressure of the cool (not cold) cloth to the bite.
You can also create a paste from baking soda and water, and apply that to the area. You may be able to give your child some over-the-counter (OTC) Benadryl, or apply some hydrocortisone cream, but as with any topical treatment aside from the baking soda and water paste, I do want to reiterate the importance of checking with your baby's pediatrician first.
Wrapping it up (and more tips on mosquito control)
Protecting your family, especially your baby, from pests like mosquitos is vital to their health and your ability to enjoy time together outside.
Babies are exceptionally vulnerable to insect bites (often because of the scented lotions we use to keep their skin soft and moisturized). When we take the time to protect them from bites in the first place, we can help to protect their health and help them to enjoy that special time with us in the great outdoors.
To protect yourself from itchy bites too, I recommend you check out this helpful guide on the best mosquito repellent. If you need a more powerful remedy, let me introduce you to powerful mosquito traps.
Hi! My name is Mark and I'm an outdoor freak.
Visiting many exotic places around the world allowed me to gain some knowledge about effective mosquito control. That's why I decided to start this site and give you in-depth reviews regarding the best repellents and traps.
And yes, you may call me Mosquito Mark.