Ticks, those small little eight-legged bugs – the other ones (not the spiders) – can take a bite out of us anywhere on our body.
And, they like to get at those interesting places such as the groin and the armpits.
But the problem with these little bugs is that they don't just bite – rather, they are able to bury themselves in our skin.
To avoid this, I will show you how to use essential oils to stay bite-free.
I start with an introduction to natural herb oils, followed by a recipe for a cheap DIY repellent.
Next, I will show you the best essential oil ticks repellent you can buy (and some other strategies too).
Feel free to skip sections and go directly the topic you want to read most about:
If you're short on time, check out these sprays & concentrates from Nature's Mace. They are made of organic ingredients and help against a variety of different insects (including ticks!):
Natural Insect Repellent – Nature's Mace
How to avoid the risk of ticks by using essential oils
More and more people are getting into the essential oils craze, and for good reason.

There are a variety of home remedies that can be concocted to take care of so many ailments.
If you have a headache, there is an essential oil for that (lavender or rosemary). If you are congested, there is an essential oil for that (peppermint or eucalyptus).
And if you want to get rid of ticks, there is an essential oil for that too (but you need to read on before I tell you what it is).
Okay, I won't make you wait too long, because the truth is, you can make your own essential oil remedy using essential oils that you can easily purchase online or at your local health and wellness store.
The best essential oils against ticks
In fact, all of the following herbs do an excellent job of repelling ticks:
Rose Geranium
Sweetgrass
Pennyroyal
Rosemary
Rue
Wormwood
Lavender
Lemongrass
Citronella
Eucalyptus
So, if you want to repel ticks in your yard, you can plant any of these herbs and it will not only repel those nasty, disease-ridden bugs, but it will also make your hard smell amazing.

Now, if you want to use essential oils to get rid of ticks, any of the above herbs, in an essential oil form, will work. But, the best essential oils for keeping ticks away are rose geranium and sweetgrass.
Recipe to make your homemade essential oils tick repellent
So, I am a big fan of the doTERRA essential oils products. If you are new to the essential oils products, then I do recommend investing in a doTERRA starter kit .
This particular kit does not contain the doTERRA rose geranium oil or the sweetgrass oil, but it does contain the lavender and lemon oils, and several other essential oils that you will find quite helpful for other homemade remedies, or to make your house smell amazing.
And unfortunately, doTERRA does not offer a sweetgrass essential oil, but I have had friends recommend to me that the Essential Trading Post sweetgrass oil works great.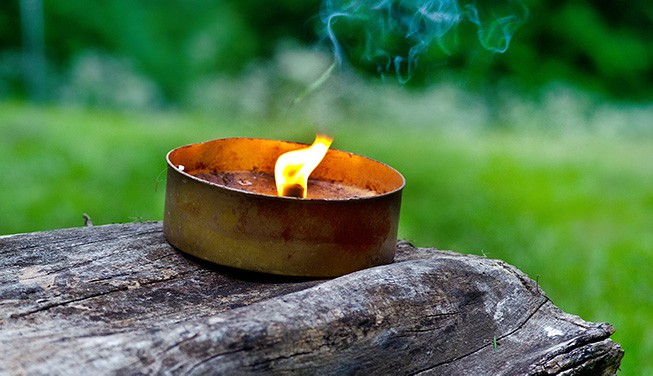 This all said, here is your recipe:
Ingredients for DIY essential oil ticks repellent
20 Drops of Rose Geranium Essential Oil
10 Drops of Sweetgrass Essential Oil
5 Drops of Lavender Essential Oil
5 Drops of Citronella or Lemon Essential Oil
4oz of Rubbing Alcohol
4oz of Witch hazel
4oz of Vodka
4oz of Apple Cider Vinegar or Distilled Water
Glass Spray Bottle
All you have to do now is add all of the ingredients into the spray bottle, shake it up, and then spray on your clothes before going outside. Store the mixture in a cool and dry place, and just shake well each time before you use.
I do recommend that you avoid spraying this mixture directly onto the skin, as some of the oils, the lemon in particular, can be a bit irritating to the skin.
Ready-to-use essential oil tick repellents
As I said before, I really am a fan of the doTERRA brand, and they happen to offer a TerraShield Outdoor Blend essential oil that acts as a safe, natural barrier against ticks and other small insects.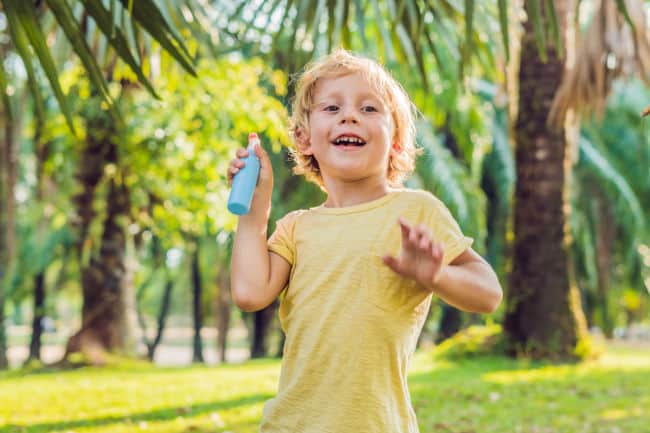 This is a newer formula that contains a blend of essential oils including Ylang Ylang, Cedarwood, Catnip, Lemon Eucalyptus, Litsea, Arborvitae, Nootka, and Vanilla Bean Absolute. All of these essential oils contain specific chemical compounds that are well known to protect against environmental annoyances.
The addition of the Tamanu oil provides extra support to the product, and not only that, but the harvesting of Tamanu oil is positively affecting the livelihood of harvesters in Madagascar, so when you buy this product, you are doing goodf things for you and for the people on the island of Madagascar.
TerraShield Outdoor Blend is a powerful and safe formula that can be used by anyone in the family, outdoors or indoors. Just apply TerraShield to the legs, arms, and neck before you go outside. You can also use TerraShield in a diffuser, and let the diffuser operate on your outdoor deck or patio.

The Essential Oil to Keep Ticks Away: doTERRA TerraShield Outdoor Blend
This essential oil can be used by anyone in the family
Last update on 2023-09-19 / Affiliate links / Images from Amazon Product Advertising API
One more option – All natural & DEET-free
So, I know this last recommendation isn't exactly an essential oil (though they are part of the ingredients), it does make my list because it does a great job repelling ticks and it is all natural and DEET-free.
And even though DEET is not harmful to humans, I know that a lot of my readers prefer DEET-free and all-natural products. And so the Yaya Organics Tick Ban All Natural Spray makes my list of recommended products as a tick repellent.
This product is indeed made with essential oils, and it is safe for people, dogs, and our environment.
The formula contains therapeutic grade essential oils including cedarwood, peppermint, rosemary, geranium, lemongrass and thyme, as well as certified organic castor and soybean oils (non-GMO). This item is non-irritating, 100% plant-based, vegan, and cruelty-free.

Another great pick:
Yaya Organics Tick Ban All Natural Spray
This product is safe for the entire family and is both vegan and cruelty-free
Last update on 2023-09-19 / Affiliate links / Images from Amazon Product Advertising API
How to remove a tick from your skin
First, if you come across a tick on your skin, it is critical that you remove it right away. And, don't assume that if you have one, that it will be the one and only.
You need to check your entire body and all of your clothing because there may be more. If you cannot reach the tick or see it clearly, get a family member or friend to help you remove the tick for you.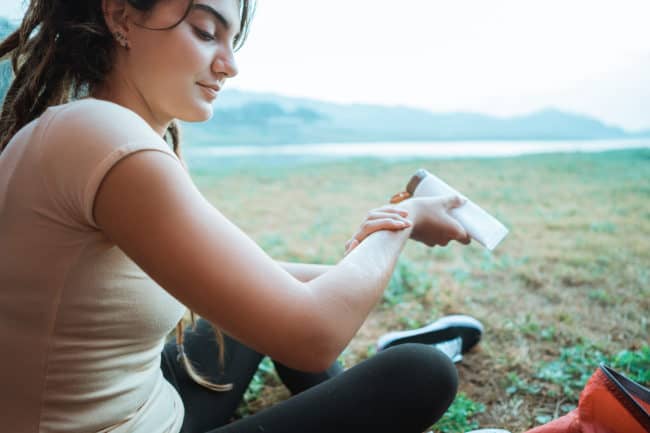 In extreme cases, you may need to see your health care provider to remove it. Also, be sure to check for ticks on your kids and pets, especially if they have been outdoors in areas where ticks like to spend their time.
Follow these instructions to safely remove a tick from your skin:
Use a tweezers to take hold of the tick, as close to its mouth as possible, as it is the mouth that will likely have started to burrow its way under your skin. The body of the tick will most likely still be above your skin. Wear gloves if possible, and avoid touching the tick with your bare hands.
Using that tweezers, lift the tick off the skin. Do not squeeze the tick too tightly because this can cause it to force its stomach contents into the wound, thus increasing your risk of developing an infection. Also, do not try to twist or jiggle the tick when removing it, as this may then separate the head from the body.  Make sure that the entire tick is removed, including the mouth parts buried in your skin, is removed.
Once the tick is out, clean the wounded area with soap and warm water. If you have an antibiotic handy, you may wish to add a small amount to the affected area. After, be sure to wash your hands with soap and warm water.
Dispose of the tick by flushing it down the toilet, or burning it.
Experiment with Essential Oils
If you are new to essential oils, my guess is that you are going to love experimenting with different concoctions and seeing what works best for you.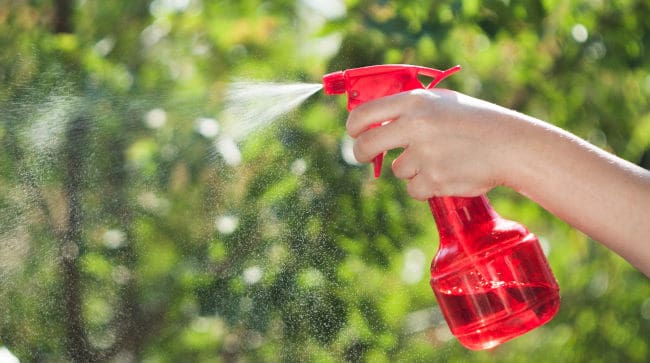 These oils can be used to help as health remedies, to repel ticks and other animals and insects, and even just to help you relax.
Not only that, but the majority of essential oils smell amazing, and that is one of the reasons why using a diffuser is to popular. A great place to start with essential oils is by practicing aromatherapy with a diffuser.
Diffusers continually provide the smell of the essential oils throughout your home or work environment. In fact, diffusers are often used during massage treatments and during meditations.
So, start experimenting to see what works best for you, and give that homemade tick repellent a try. I think you'll be quite impressed with the power of these essential oils to keep those ticks away.
More guides about natural tick control
I wrote many guide that show you how you keep your house insect-free. On this site I focus on mosquitoes, but much of this knowledge also applies to avoiding ticks.
There are a number of ways to do it:
Once you have to deal with grown-up mosquitoes/ticks I found these to be the best products:
And of course, there are also many natural mosquito repellents for personal use. They work great in heavily-infested areas where you can't control the mosquito population.

Hi! My name is Mark and I'm an outdoor freak.
Visiting many exotic places around the world allowed me to gain some knowledge about effective mosquito control. That's why I decided to start this site and give you in-depth reviews regarding the best repellents and traps.
And yes, you may call me Mosquito Mark.