Imagine having a BBQ in your yard together with your friends. Out of nowhere you feel a sudden pain and an itchy feeling afterwards.
This is where the fun ends:
When your garden is a Shangri-La for mosquitoes you need to do something to claim your property back.
Fortunately there are some effective solutions to kill their offspring before hordes of little bloodsuckers can harass you and your family.
I will show you 3 powerful solutions that can help you to control mosquitoes in your garden
How mosquito granules work
If you get sickening mosquito bites you most probably have a breeding ground on or near your property. Those can be all kinds of standing waters:
Clogged rain drains, tree intersections full of water, pools, ponds or fountains. They are the perfect environment for mosquito larvae.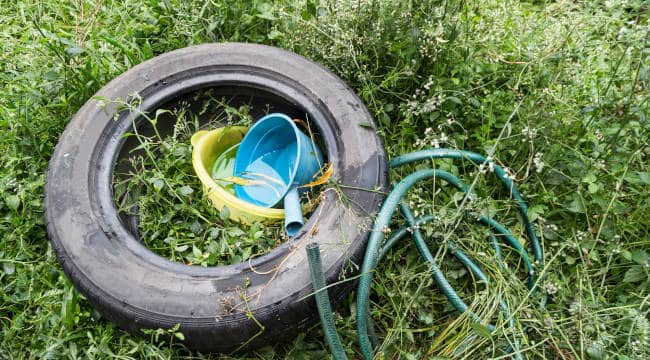 Mosquito granules try to get down to the root of the trouble. Once you spread them over your lawn or in standing water particularly they kill most of the unhatched little bloodsuckers.
That means that these products work best if you start using mosquito repellents in your garden before the season starts. In comparison to mosquito dunks you can also use them when you have the larvae already.
Once the larvae are hatched you can still reduce the number of mosquitoes but I recommend that you start early enough. Diligence is key.
From my experience most of the following granules work if you apply them thoroughly on your property. If any problems with mosquitoes persist you might want to check if you have forgotten any breeding grounds.
Another good advice is that you try to get rid of any standing waters before you put chemicals and other stuff in use.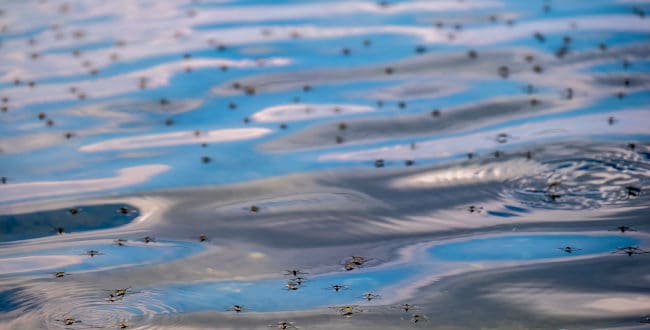 However I understand that you don't want to give up your beautiful pond just because some annoying little bloodsuckers harass you. That's were these top rated mosquito granules come into play.
Mosquito Bits
EPA registered mosquito control for your backyard. It killed mosquito offspring very effectively in my field test.

Sale

Summit Mosquito Bits Quick Kill
Kills mosquito larvae effectively
Easy to apply
Works against fungus gnats too
Last update on 2023-12-04 / Affiliate links / Images from Amazon Product Advertising API
After you sprinkle the granules around mosquito breeding grounds they kill most of the larvae within 24 hours. The label says that you should use it in standing waters but I found that it also works with great success on wet grounds (grass after rain, flower pots, etc.).
The active ingredient is BTI (Bacillus thuringiensis subspecies Israelensis), a dried bacteria which is registered with the EPA and helps not only against mosquitoes but also other bugs like fungus gnats. For effective mosquito control you need to reapply it frequently in order to prevent the insect larvae from hatching again.
That way I successfully kept my yard mosquito free over the last year. One great thing is that granules are way easier to spread around than mosquito dunks. For example if you just need a small amount for your drain this solution is way better than a whole dunk.
While I wouldn't want to smell this product every day the scent is still okay because you only have to apply it once every two weeks. Of course you should be cautious to use it when kids and animals play around.
I frequently put it in a fish pound however and all of the inhabitants are still alive today. So far I haven't experienced any downsides with it.
Just don't fool yourself that it solves all mosquito problems without hard work. You still need to apply it carefully to all breeding sources
Overall I recommend that you try Mosquito Bits out because this stuff just works and keeps mosquitoes at bay.
Bonide Mosquito Beater Natural Granules
Another contestant for the best mosquito granule. In comparison to other products this one smells way better.

Sale

Bonide Mosquito Beater Natural Granules
Lilac scent
Nontoxic and biodegradable
Kills mosquito offspring effectively
Last update on 2023-12-04 / Affiliate links / Images from Amazon Product Advertising API
I used this area repellent for some years before I switched to the one above. In comparison I noticed that these granules get washed away faster.
If it rains often you might have to apply it more frequently. That said I found that it helps effectively against the little bloodsuckers. I didn't notice many bugs flying around after sprinkling it throughout my backyard.
Bonide Mosquito Beater tends to work comparable to Mosquito Bits and has one big advantage over it: The scent is similar to lilac which is a big pro in comparison to most other mosquito repellents.
It's one of the few that actually makes your garden smell good!
However be aware that this product tends to work less reliable. While it was effective in my last garden it proved to be less reliable in my new home. Maybe there are different kind of animals or other circumstances that diminish its power.
To sum my review up: If this repellent granule works, it's a great choice for your garden. It smells nice and prevents you from getting bitten by hordes of mosquitoes. It is labeled as nontoxic and biodegradable as well, so give it a shot in case you need effective mosquito control for your garden.
Dr. T's DT336 Mosquito Repelling Granules
Another outdoor repellent for your property with nonpoisonous ingredients. It contains lemongrass, mint and garlic oil to keep your garden mosquito-free.

No products found.
These biodegradable granules are the favorite pick of many of my friends who want to avoid too much chemicals. They use it with great success on their patio and pools. While the scent (it's a mixture of citrus and garlic) is not the most pleasant one it keeps their lawn mosquito-free.
Be warned though that it appears to be hit and miss. While it works in some areas it doesn't help against mosquitoes and bugs in others. The reviews on Amazon strengthen this view because there seems to be a great disparity in opinions regarding Dr. T's Repelling Granules.
I personally stick to the solutions above because I made good experiences with them. If you are looking for a natural garden area repellent without any synthetic chemicals you might want to give it a try though.
Conclusion:
Be sure to check out other options besides granules as well. While all of these products work great for many gardeners no product can guarantee 100% protection.
You might also want to look for a personal repellent that can prevent yourself and your family from getting bitten. There are a number of products which can help you to control mosquito population in your garden effectively.

Hi! My name is Mark and I'm an outdoor freak.
Visiting many exotic places around the world allowed me to gain some knowledge about effective mosquito control. That's why I decided to start this site and give you in-depth reviews regarding the best repellents and traps.
And yes, you may call me Mosquito Mark.