Buzzing mosquitoes are more than a nuisance – they not only harass you with painful stings but also carry dangerous diseases like Zika, West Nile or Malaria.
I'm sure you're reading this because you want to find out how to stop them. I HATE mosquitoes as much as you do and that's why I wrote this guide.
I'm going to show you a remarkable solution against flying critters – mosquito traps.
These devices attract little bloodsuckers instantly and kill thousands of them.
They are an excellent choice if you want to keep your yard mosquito-free.
This guide will give you an overview about the most popular types of traps.
I will share which mosquito killers have been proven to be most effective during field-tests and scientific research.
Furthermore I reviewed several traps within different price ranges and I will give you an extensive overview about everything you need to know.
What will you learn:
You Bugs Get Off My Lawn!
Mosquitoes can ruin a lot of great things: I've already had to cancel barbecues with friends because there were too many bloodsuckers swarming around my home.
Every time peak season starts I resisted to go out because I would instantly get troubled by hundreds of mosquitoes.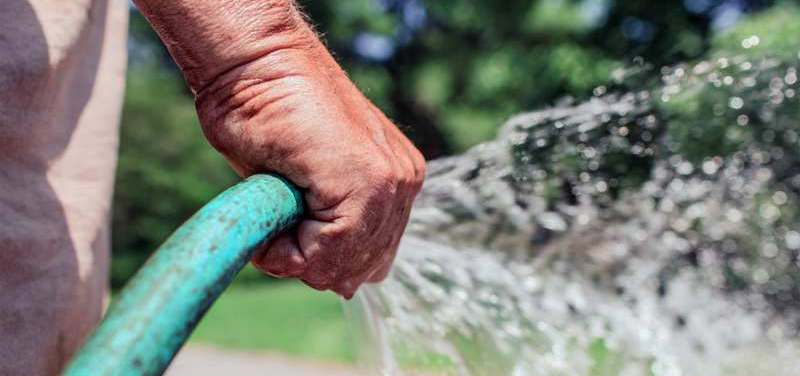 3 years ago I finally realized that I had to do something to stop them. You can bet I was fed up with countless red melts on my arms and legs. I had to find an effective solution to get rid of mosquitoes on my property!
After a lot of trial and error I found a powerful strategy that diminished my local critter population significantly. We are speaking about 98%-99% less buzzers. In this guide I want to share my secrets for a mosquito-free yard with you.
One tool that helped me most with reducing the numbers of harmful insects were mosquito traps. They take some effort to be effective but nowadays not many pests trouble me when I'm outside with my family.
Propane vs. Electric vs. Other
Mosquito traps come in many different variations:
Some devices use propane gas to lure bugs into nets where they can't escape and starve.
These are usually the most effective traps in regard to mosquitoes because they mimic human breath (propane converts to carbon dioxide, heat and moisture) to catch the annoying troublemakers.
Others attract critters with UV lights and roast them on an electric grid upon contact.
In comparison to propane traps they target a wider range of insects.
Therefore electric zappers can be a viable alternative if you suffer not only from mosquitoes but other bugs too.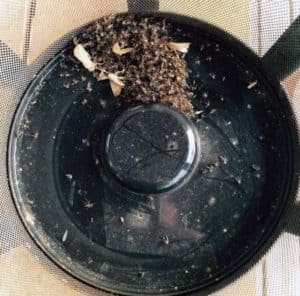 Each device makes sense for different application scenarios. All categories are covered below. I reviewed the most popular choices and I'm going to tell you when to use what device.
Keep on reading for an overview about mosquito traps for beginners and know what trap works for you.
The Best Outdoor Mosquito Traps Under $350
This section will focus on outdoor use only. I will come back to mosquito killers for your home later because from my experience most people look for a device that can keep their yard clean.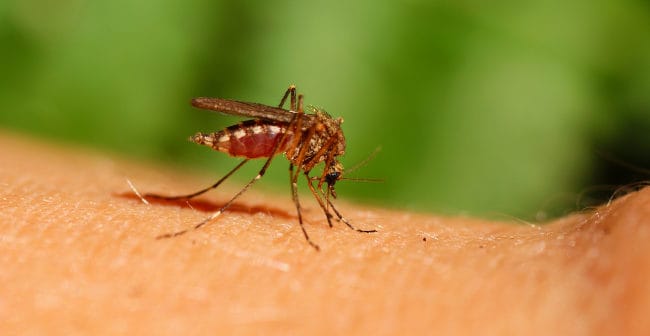 As you can guess from this section's headline, mosquito traps are not cheap. Most of them will cost you some money. The absolute top products can set you back a grand. However there are some viable solutions that can keep up with more sophisticated traps. And the good thing is: they are far cheaper.
Propane traps are one of the most powerful tools to stop mosquitoes. First time buyers should look out for a device powered by this technology.
From my experience you can find very effective devices in the price range around $300. For this amount of money you can expect traps that control most of your garden's mosquito population.
Many traps available have been scientifically proven to kill boatloads of annoying bugs.
They work for big areas up to 1 acre which should be more than enough for most troubled homeowners.
If you buy a mosquito killer for the first time I recommend that you look for a propane trap because you won't have to make any compromises in regard to fighting mosquitoes in your yard. Now, let's start with my top recommendations:
Mosquito Magnet Patriot Plus
One of the newest traps that crush hordes of mosquitoes. This remarkable device is designed to lure hundreds of little critters with the help of propane that mimics human breath. Once the bloodsuckers come close they get sucked into the trap where they meet their doom.
Sale

Mosquito Magnet Patriot Plus
Uses propane to cover an area of 1 acre. It's silent and odorless. Consider ongoing costs for propane, attractant, net and cleaner and use outdoors only.
Last update on 2023-12-04 / Affiliate links / Images from Amazon Product Advertising API
During scientific studies Mosquito Magnets often lead the way as the most effective mosquito control devices. Granted, the outcome will depend on your local mosquito species but you can bet that these traps will perform better than most other solutions. You won't notice many itchy bites or red melts on your skin with a unit placed in your backyard.
One of the best things about the Patriot Plus is that it works without noise or scent. Consequently, once you set the propane trap up it's hard to notice that there is a mosquito killer working in your yard.
There's no obtrusive zapping or lightning (in contrast to electric bug killers) that could annoy you.
The trap's power supply is a cord so you won't have to worry about battery replacement.
The Mosquito Magnet Patriot Plus offers excellent mosquito control for a reasonable price.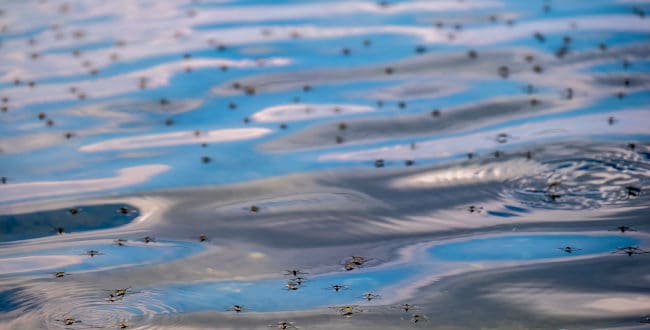 Furthermore it's designed for killing mosquitoes but causes almost no harm to other insects. If you suffer from biting mosquitoes specifically this is your number one choice.
After a quick setup it diminishes your female mosquito population and helps to get rid of buzzing critters. Apart from mosquitoes it also dealt with many no-see-ums and ticks around my area.
I've personally used Mosquito Magnets with great success for many years and have yet to find a better solution in regard to price, effectiveness and ease of use. They diminished my home's mosquito population by roughly 98%.
I still get bitten here and there but normally little bloodsuckers don't bother me. Consider buying it if you want to keep flying skeeters, gnats and no-see-ums off your property.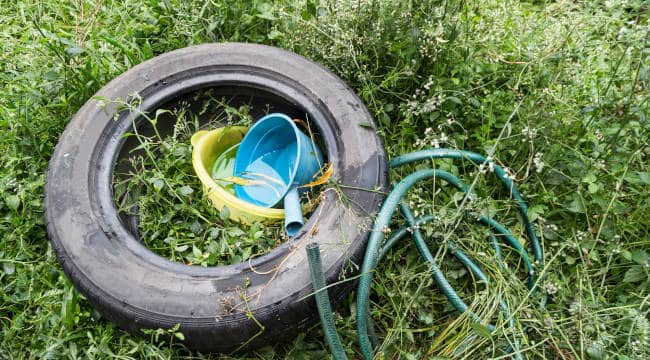 However keep in mind that such devices are not set and forget. You will have to maintain your unit to make it work properly (more on that below). The gas tank need frequent replacement, the same goes for the catching nets and additional attractants.

Furthermore you might have to experiment with correct placement. Be sure to read the tips further below and take a look at the full review to know what to expect.
… however, don't worry too much about maintenance because overall it takes around one hour of work per month to keep the trap going.
Considering most other propane gas traps cost more, this tool is a bargain. Check it out if you want to rely on the most effective anti-mosquito technology out there.
That said, the Mosquito Magnet Patriot Plus has worked tremendously for me. It's really worth the money and effort because it's one of the few solutions that can lead to efficient mosquito control. Furthermore it's of robust build quality and Made in America.
If you're fed up with itchy bites and constant harassment when you just want to enjoy an afternoon in your garden, buy this excellent mosquito killer.
Mega-Catch Premier
A trap that is a viable alternative to propane powered traps like the one above. It attracts mosquitoes with the help of UV-lights, heat and moisture.
This makes the device's catching mechanism much simpler than many other options. The focus on a less sophisticated design has some main advantages: There's no need to refill a gas tank and maintenance is easier and cheaper.

Mega-Catch Pro 900 Premier
Uses UV-light to cover an area of 75 acre. It's silent, odorless and comes with 5 operating modes. Consider ongoing costs for attractant and net. Use outdoors only.
Last update on 2023-12-04 / Affiliate links / Images from Amazon Product Advertising API
The trap comes with two catching modes. The first involves a normal net where annoying pests get caught. Once sucked into the device by the powerful fans, mosquitoes can't escape and starve. The second, more powerful, option is the wet catch. It's basically a bucket that attracts and drowns bugs.
I mainly use the latter option because it tends to catch a greater number of mosquitoes. I recommend you use a mixture of water and soda (sweet scent is a great lure) for optimal results.
I bought an additional attractant (Octenol cartridges) to improve the Premier's performance even further.
Honestly, I was really surprised that the Mega-Catch worked so well against the mosquitoes around my cabin.
Each time I emptied the internal trap I discovered dozens of dead critters.
After some time this led to a significant reduction in mosquito bites when I was staying outside.
I still get bitten here and there but it's nothing compared to before.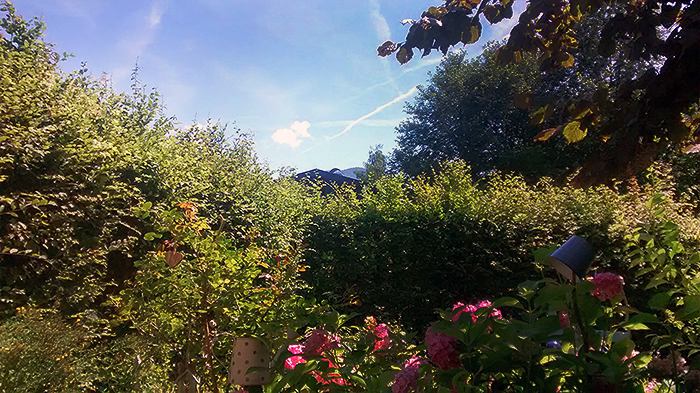 The Mega-Catch can almost keep up with propane gas traps. Consider it if you want to avoid chemicals and too much maintenance.
For home-site protection I still prefer the Mosquito Magnet because it's a propane trap which is more effective and covers a greater area for a cheaper price.
However the Mega-Catch Premier shines when you can't be bothered with a lot of maintenance. Its operation requires less work because it's easy to set up and the engineering is very simple.
Additionally, don't miss checking out the more expensive Mega Catch Ultra in the next section because it combines the same robust design with propane gas functionality.
Buy it if you need a compact yet durable device to keep small gardens mosquito-free. The Mega-Catch Premier is also a great choice if you look for a tool that is working without chemicals. It offers efficient mosquito control for your home.
Flowtron FC-8800 Diplomat
This bug zapper is another chemical free solution. In comparison to the Mosquito Magnet or the Mega-Catch above this heavy duty outdoor device isn't designed for mosquitoes specifically.
The Flowtron Diplomat's UV bulbs lure all kinds of pests into an electric grid were they get roasted.
The good thing is:
There's no need for chemicals like propane. During my field tests this trap proved to be very effective against anything flying around my house. Mosquitoes, gnats, moths, bugs, no-see-ums…this thing is a beast!
Sale

Flowtron FC-8800 Diplomat
Electric zapper with limited coverage area (3 ft. cord). It's chemical free and you only have ongoing costs for replacement bulbs (you need 3 of them). Use outdoors only.
Last update on 2023-12-04 / Affiliate links / Images from Amazon Product Advertising API
There was a constant staccato going on when hundreds of bugs vanished in blue lightning arcs of electricity.
The build quality is robust so you can place the unit anywhere outside in your garden. Handling the device is quite easy and you can set up your Flowtron trap within minutes.
To further enhance its performance against mosquitoes you can buy optional lures like Octenol. Once placed inside the device they helped to increase the number of roasted insects significantly. Make sure to clean the device frequently because it will get clogged with numerous dead bugs.

Flowtron Octenol Cartridges
An effective mosquito and biting fly attractant for use with outdoor insect killers.
Last update on 2023-12-04 / Affiliate links / Images from Amazon Product Advertising API
The Flowtron Diplomat is a beast! If you want to get rid of any bugs flying around, choose this heavy duty outdoor zapper.
I recommend this electric bug zapper to everyone who gets harassed by a variety of different insects.
If you suffer from mosquitoes only, you better choose a device specifically designed for killing little bloodsuckers to keep the environmental impact low.
As powerful as the FC8800 Diplomat is – it will burn all kinds of insects, even the beneficial ones.
That said give this monster a try if you hate swarming hordes of annoying bugs in in your yard. It's an excellent choice for anyone who can't stand constant harassment by flying critters
Dynatrap XL DT2000XL
The devices of the Dynatrap line are known to be one of the cheapest solutions for mosquito control. All of them use a combo of fans and lights to attract mosquitoes.
The traps come in many different variations: smaller ones like the DynaTrap DT150 Ultralight are suitable for indoor and outdoor use because they offer protection for smaller areas like single rooms.
If you look for something bigger you can opt for the No products found. (covers ½ acre) or the DT2000XL here which is enough for 1 acre.
No products found.
The unit is easy to use and doesn't require much maintenance.
You just place them far enough away from humans at a place where mosquitoes congregate.
The lights and coating made of titanium dioxide (TiO2) lure mosquitoes near the powerful vacuum fan.
Consequently, once trapped the little bloodsuckers can't escape.
During my observations I found that other insects like moths, blackflies and ladybugs are lured into the trap as well. After some experimentation with correct placement the ratio between caught mosquitoes/biting midges and other insects became more favorable. Prepare yourself to experiment a bit with the correct location.
The Dynatrap is hassle-free to maintain and is a bargain compared to the other options. It's powerful enough to keep medium-infested areas clean.
One great tip is to experiment with different second attractant that significantly improves the catching rates.
Octenol works best in northern regions while Lurex performs well in the South. The latter is also effective against Asian Tiger Mosquitoes. As a result trying out different attractants can be worthwhile. Most of them are interchangeable, e.g. a Mosquito Magnet Lurex cartridge will work with a Mega-Catch.
Not all insects are attracted by the same lures. There are a lot of factors like CO2, heat, moisture, UV-lights, patterns that can attract mosquitoes. The right choice in regard to traps will depend on your local mosquito population.
Lurex and Octenol: Dramatically Improve Catching Rates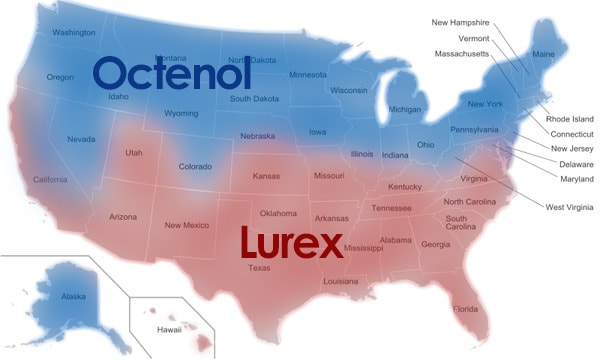 One great tip is to experiment with different second attractant that significantly increases the catching rates.
Octenol works best in northern regions while Lurex performs well in the South. The latter is also effective against Asian Tiger Mosquitoes.
As a result trying out different attractants can be worthwhile. Most of them are interchangeable, e.g. a Mosquito Magnet Lurex cartridge will work with a Mega-Catch.
A second attractant is a must! They offer a remarkable boost in catching rates for most traps that are available.
All in all I found that propane traps like Mosquito Magnets tend to work best against the overwhelming majority of species. These traps are also the ones with the most evidence from scientific studies.
If you are interested in purchasing such a tool be sure to check out the more sophisticated versions in the following section as well.
Mosquito Killers For Your Yard Over $350
The traps listed here are for everyone who really HATES getting bitten by nasty critters.
Cheaper traps can work effectively against mosquitoes but sometimes you need the best tools available for optimal revenge.

High-end traps come with a price but they have lots of useful features that can make mosquito control more convenient. If you want to bring Mosquito Armageddon upon your garden look no further.
All of them rely on propane or CO2 because mimicking human breath is the most effective way to attract critters.
This kind of catching mechanism has the strongest backup from scientific research.
From my personal experience these devices are suitable for heavily infested areas with thousands of mosquitoes.
Granted, the effectiveness will depend on a lot of factors like breeding grounds and species but these traps are currently the best choice against nasty pests.
A greater budget will get you the most effective type of traps: carbon dioxide mosquito killers that can catch enormous amounts of critters.
While cheaper traps work fine for small areas, the more sophisticated versions cover large yards.
The devices listed here include a battery which is useful when you have to cover a huge garden in particular. Cordless traps mean less limitations in regard to placement and you don't have to worry about short cables.
Furthermore they often have automatic programs that allow independent operation.
For example certain models shut themselves off at a certain temperature threshold (under which mosquitoes are not active).
You can also configure them to activate during peak hours only, depending on your local mosquito population.
All of this allows you to cut down on maintenance and upkeep costs.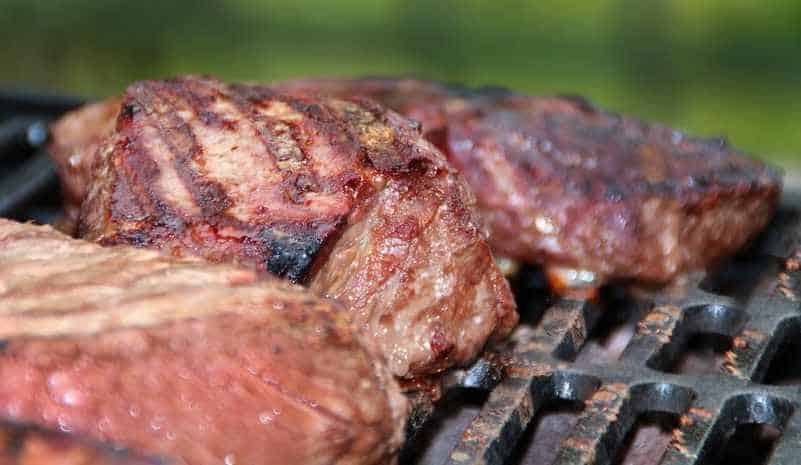 For this reason they can be worth the money in the long run. You might not need all features everyday but it's good to know that you can rely on them in case you need it. This offers far more flexibility than cheaper models. I will give you an overview about the best outdoor traps and their special features.
Mega-Catch Ultra
A versatile jack-of-all-trades that comes with settings galore. The Ultra trap combines many different lures to attract female mosquitoes, biting midges, gnats and ticks. As a result it can deal with most of the 176 mosquito species currently appearing in the US.
Whether you want to attract troublemakers with lightning patterns, heat, moisture or CO2 – the Mega-Catch has them all. Additionally you can adjust them in 5 different stages. This offers a lot of customization to experiment with.

Mega-Catch Pro 900 Ultra
Uses CO2 and UV-light to cover an area of 1 acre. It's silent, odorless and allows a lot of customization. Consider ongoing costs for CO2, attractant and net. Use outdoors only.
Last update on 2023-12-04 / Affiliate links / Images from Amazon Product Advertising API
The mosquitoes around your home might be attracted to different things than the mosquitoes at my place.
As a result the numerous setting really make the trap stand out. With the Ultra you can choose from so many different ways that you can expect at least one of them to work.
In case you not a big fan of customization, it's no big deal either: just rely on the included automatic mode which adjusts everything on its own if you don't want to be bothered with endless experimentation.
Like with all other tools in this section the catching rate can be increased with additional attractants like Octenol or Lurex3. I know from personal use that these chemical compounds do a remarkable job. Once placed inside the trap you will discover boatloads of dead critters each time you empty the net.
The Mega-Catch Ultra is the most versatile mosquito trap to date. It combines many useful operating modes that can help you with your pest problem.
Granted, the Mega-Catch Ultra comes with a steep price, but it's currently the most versatile mosquito killer on the market.
I found that the Mosquito Magnet Executive (reviewed below) covers a larger area in comparison to this device.
On the other side the Ultra trap offers more settings and it requires less maintenance. This results in lower upkeep costs.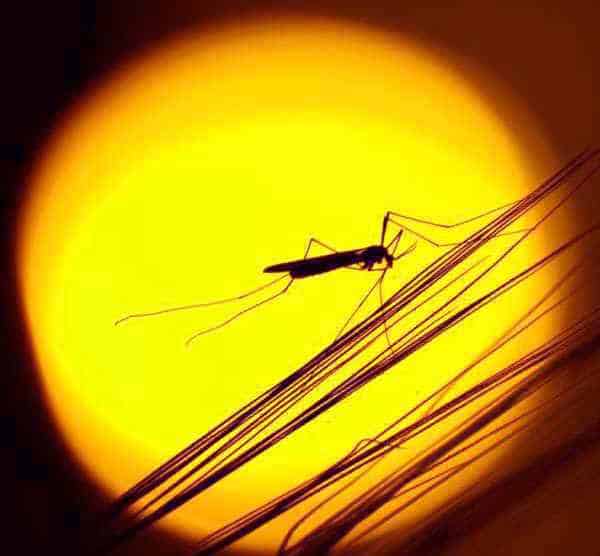 Due to the simple engineering it takes less than an hour per month to clean, replace and empty everything. A mosquito-free home is well worth this effort.
I have been using a Mega-Catch for over 3 years now and I have yet to experience any problems with it. As long as you maintain your unit you can expect them to last a while.
Overall I'm very satisfied with this mosquito killer and recommend it to everyone who wants to stay flexible. No other device on the market offers as many different customizations as the Mega-Catch Ultra. This makes it a top pick regarding mosquito control.
Mosquito Magnet Executive
You can buy 2 Patriot Plus traps for the price of one MM Executive device. However for this premium you get some neat extras. In comparison to the beginner version this tool offers a long-lasting battery and a LCD panel to access different fuel saving modes.
This allows the Executive to operate for a longer amount of time. The cordless device is easy to set up and catches boatloads of swarming mosquitoes. If you regularly move your device around, the battery really makes a difference.
Sale

Mosquito Magnet Executive
Uses Propane and covers an area of 1 acre. It's silent, odorless and comes with an CLD panel with 5 operating modes. Consider ongoing costs for propane, attractant, net and cleaner. Use outdoors only.
Last update on 2023-12-04 / Affiliate links / Images from Amazon Product Advertising API
From my experience the MM Executive tends to work even better than the cheaper devices.
When I switched from the older Patriot model to this version it helped to get rid of the last critters buzzing around.
On paper the difference between 95% and 99% mosquito reduction doesn't sound like a lot, but in reality it is! I literally cut down the numbers of red melts in half again.
The device managed to keep the last few mosquito bites away that annoyed me. Therefore I am convinced that this tool is the number one choice for everyone who wants the best mosquito control they can get for their home. If you have to protect a larger area in particular the Mosquito Magnet Executive can be worth the price of over $700.
There is no obtrusive light or annoying sound like with electric bug zappers. Similar to other Mosquito Magnets it works by emitting a plume of CO2, heat and moisture to attract and kill mosquitoes. Mosquito Magnets have been tested in many scientific studies and they help to reduce the number of mosquitoes significantly under the right circumstances.
The Executive is my favorite trap out of the Mosquito Magnet line. It combines excellent catching rates with fuel saving modes and durability.
I've yet to find a more effective solution to keep my yard clean and I recommend you try out the Mosquito Magnet Executive if you're fed up with nasty buzzing sounds every time you head outdoors. While it requires some maintenance (check out the full review or opinions on Amazon) I find that really worth the effort.
SkeeterVac SV3100 Eliminator
Another propane gas trap and one of the cheapest devices in this category. It attracts mosquitoes with a CO2 plume and then lets them starve in the internal basket. For a price of under $400 it's almost a bargain because the Eliminator performs comparable to the traps above.

Skeeter Vac SV3100
Uses Propane & CO2 to cover an area of less than 1 acre. It's silent, odorless and is cordless. Consider ongoing costs for propane, attractant, net and glue boards. Use outdoors only.
Last update on 2023-12-04 / Affiliate links / Images from Amazon Product Advertising API
Once placed outside in your garden you can say goodbye to most pests flying around.
Assembling it is easy and only a matter of minutes.
The same holds true for general maintenance.
Everything is convenient to reach/clean and you won't need any tools to keep your unit running.
Compared to pricier options it covers a smaller area. However roughly 1 acre will still be enough for most users. Once placed correctly, the cordless trap takes care of numerous swarming critters flying around. In addition to the vacuum fan mosquitoes also get caught by glue strips placed on the SkeeterVac's outside.
I found these so-called Tac-Traps to be hit or miss. On some days they managed to catch a remarkable amount of mosquitoes, but on other occasions there were only other, mostly beneficial insects sticking around.
If you can't stand any bugs, feel free to use it, but I didn't replace them after the first run. Fortunately the CO2 plume works effectively enough on its own so there is not much need for such additional catch mechanisms.
No products found.
The Eliminator includes glue strips that make this trap unique. Overall this propane killer offers a convincing performance for a relatively cheap price.
Overall the SkeeterVac 3100 is a viable alternative to the traps above. There's not much to criticize apart from maintaining costs and the lack of options. In comparison to the Mega Catch Ultra or the MM Executive it lacks additional operating modes.
There is no fuel saving option, no LCD panel or mosquito stimuli. However the SkeeterVac's main competitor seems to be the Mosquito Magnet Patriot Plus anyway because they are almost in the same price range.
That said this trap a great option for mosquito control, so feel free to buy it if you don't need many settings. It just plain works and is a great solution to stop mosquitoes in your backyard.
Indoor Trap Recommendations
Many critters not only trouble you outside only but they also harass you while you're watching TV in your home. That's where indoor traps offer relief from nasty insects.
Nobody should suffer from itchy bites when relaxing or sleeping, so check out the top picks below for a mosquito-free home.

In contrast to outdoor traps most of the tools designed for indoor use rely on electricity to attract and kill bugs. This has several advantages:
There is no need for any chemical compounds. While it's not very likely that they cause harm outside in the yard you don't want to deal with a pesticide plume in your kitchen.
Another reason is that electric bug zappers not only attract mosquitoes but a whole range of other annoying bugs too. Getting rid of all insects in your yard is overkill because it can hurt beneficial species too. However it's not necessary to make this distinction indoors.
I honestly don't mind that all kinds of insect get roasted inside my home because it's no place for them anyway. I want a bug-free house and these devices get the job done. Nonetheless I recommend that you rely on other forms of mosquito control as well. For example a window screen keeps many annoying critters outside where they are less likely to bother you.
Indoor traps work best in combination with additional mosquito control management. The cheapest and most effective way to deal with pests is a combination of several measurements.
Before I lay down my personal strategy against mosquitoes I would like to give you a short overview regarding electric bug zappers. If you need a more detailed guide feel free to read this article about the best indoor traps available. In case you just want to learn about devices that work, keep on reading.
Aspatek Bug Zapper
This insect killer is my favorite choice when I have to deal with unpleasant guests at home. It attracts insects with two UV-bulbs and roasts them upon contact. I usually switch it on at night because it works best in dark rooms without light competition.
Sale

Aspatek Bug Zapper
Very effective against all kinds of bugs
Nontoxic and free of chemicals
Last update on 2023-12-04 / Affiliate links / Images from Amazon Product Advertising API
Most of the time the device is operating silently, however you can hear a noticeable pop-sound every time it kills a bug.
As long as you don't encounter hundreds of skeeters flying around the noise won't be a problem.
One big advantage is that there are no chemicals involved, so you don't have to worry about harming kids or pets.
The grid is protected by a robust metal frame which makes it hard to accidentally burn yourself.
Dead insects get collected in a tray at the bottom. As a result cleaning the bug zapper is a matter of minutes. The only downside I found is that electrified insects sometimes land besides the device. It's not a big deal but better place the device in an open spot.
During the course of one week the Aspatek Bug Zapper got rid of more than 99% of my home's bugs. I only use it every second night now because no more mosquitoes or biting midges harass me.
From time to time I set it up in a different room to make sure it attracts everything hiding in my house. Together with additional outdoor mosquito control itchy bites are not a problem anymore when staying inside.
To sum it up, for the price of around $30-40 purchasing this tool should be a no-brainer. Try it out if you want to keep nasty critters at bay.
Dynatrap DT1050
The Dt1050 is far more versatile than your usual indoor trap because you can also use it outdoors. There are cheaper versions around but I found this Dynatrap model to be one of the best products if you need protection in different scenarios:
For example you can hang the Dynatrap in your garage to keep it clean as well as use it for garden dinners occasionally. The DT1050 covers roughly half an acre so it's big enough for most patios. Keep in mind that it will attract all kinds of bugs so place it some distance away from where you plan to congregate with friends.
Sale

DynaTrap DT1050
No obstrusive zapping sounds
Works with UV and special coating
Very easy to maintain
Last update on 2023-12-04 / Affiliate links / Images from Amazon Product Advertising API
When used indoors it manages to get rid of flying insects that normally buzz around. The light and the titanium dioxide coating lure most of the critters into the trap so you can enjoy staying at home without the fear of getting bitten.
One of the trap's main advantages is that there are no zapping sounds.
In comparison to other electric bug killers this device doesn't have a voltage grid.
Once a bug enters, it gets trapped inside until it starves.
This makes the Dynatrap the perfect choice for everyone who is annoyed by loud sounds or can't stand to clean the remains of burned insects. Emptying the device is a straightforward process due to the neat twisting mechanism that opens the trap.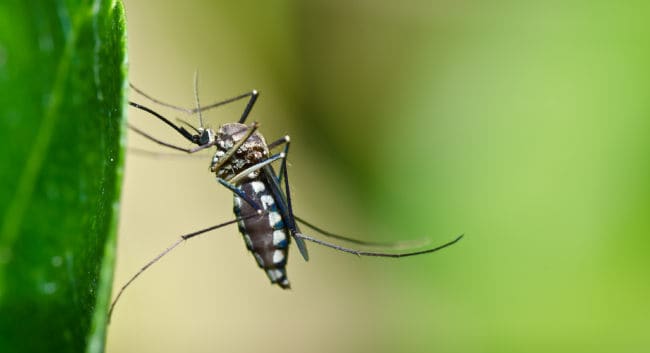 The Dynatrap is designed to protect small outdoor areas too, however its performance can't compare to dedicated propane gas traps. When there too many critters flying around the catch fails to keep all of them at bay.
Therefore I recommend this trap mainly for indoor use and occasional outdoor activities in less infested areas. It's a viable alternative to bug zappers without any obtrusive noises or mess around the device. Use it in your house and you won't have many itchy bites to complain about anymore.
FlyWeb Fly Trap
Another unique trap concept for household use. The device is not specifically designed for mosquito problems but it helps against all kinds of flying bugs. It's Made in USA and free of any harmful chemicals. Just plug it in and the UV-bulbs will lure annoying pests near the trap.
Consequently the Fly Trap works best if you leave it running overnight without any other light sources. Insects get snared in the trap's glue boards. They are very sticky but easy to put into the device. You can leave them there until all of their surface is covered with dead bugs.

FlyWeb Fly Trap
Ready to use in seconds
For indoor use only
Last update on 2023-12-04 / Affiliate links / Images from Amazon Product Advertising API
From my observations you can expect to catch more than 100 critters before you will have to replace the glue cards. Be sure to buy some replacements together with the trap in order to keep it working.
A simple, chemical-free solution that relies on glue boards. This means that you won't have to deal with burned insects or zapping sounds.
In my opinion the Fly Trap is a great choice if you get annoyed by a buzzing critter here and there. In case you suffer from a severe mosquito problem other products might be a better choice because they are able to contain a greater amount of insects before they need to be emptied.
On the other side the Fly Trap has some great advantages: there are no zapping sounds and cleaning the device takes less than 1 minute.
Pure Enrichment Electronic Insect Killer
This new device combines an electronic grid with a more eye-friendly design. It works very similar to the Aspatek Bug Zapper. Light-bulbs attract unwanted guests in your house and the voltage grid roasts them upon contact.
No products found.
In comparison to other bug zappers this tool from Pure Enrichment comes with a white plastic cover. It not only looks better than the bare grids of other competitors but also guarantees that you don't put a finger in accidentally.
Overall I'm pleased with the indoor killer's appearance and recommend it to everyone who is concerned about design.
The device also shines in regard to the most important thing, its performance against critters.
After setting the trap up it managed to keep my kitchen mosquito-free. Similar to other bug zappers there is a noticeable pop-sound every time a little bloodsucker meets its doom.

As long as you don't suffer from boatloads of swarming critters in your home the unit will be silent most of the time.
While performing similar to other electric zappers, the device's design is way nicer to look at than the bare grids of most competitors.
Burned insects get collected in a tray at the bottom that is easy to clean every few days. The manufacturer also provides a handy brush that comes with the product and helps to get rid of clogged bugs.
If I had to mention one downside it would be the cord which is slightly too short. In particular if you want to hang the unit (there's a built-in hook at the top) you might need an extension cable. Apart from that I haven't had any negative experiences with this device.
To sum it up, the Pure Enrichment insect killer is one of the few devices that combine great performance with an appealing appearance. It works comparable to most other bug zappers in this price range but it manages to look significantly better. Buy this zapper if you can't stand the design of other traps.
How To Use Mosquito Traps And What To Expect
The extensive list of reviews above makes it clear that mosquito control is not a simple task. There are many options available to keep your house free of mosquitoes.
However you should know that even the best, most expensive device sometimes is not enough to get rid of all critters.

Effective mosquito control is based on many different factors. It's always best to not rely on one product exclusively but combine a whole lot of different strategies together.
Let me give you an example:
Imagine there is a mosquito breeding ground on your property (a pond, gutters, pool) where the offspring hatches. During season endless waves of mosquitoes emerge from the waters and they buzz around your home.
A very effective mosquito trap may catch hundreds of little critters per day but it still won't be enough. As long as you don't get rid of the source the bloodsuckers will continue to harass you. Despite you empty a basket full of dead critters every day.
I don't tell you this cautionary tale to discourage you from buying a mosquito trap.
They often work great, but you should know their limitations. Many people expect a set and forget miracle when they buy a mosquito killer for their backyard.
The truth is, however, that mosquito control is more than setting up a unit behind your house. Catching adult mosquitoes is only one of the (last) steps.
How to set up your unit
I will lay down my personal strategy in the next section but before I want to give you a short overview about how I use my mosquito traps and what it takes to maintain them properly.

I will focus on propane powered devices mostly because they require the greatest effort and bear the most upkeep costs.
After receiving your device you can set up most traps within minutes. During the last years I never owned an outdoor trap that required any tools to assembly them. However you might have to charge the included battery if you go with a cordless device.
The waiting time is a great opportunity to read the manual. I advise every new user to read the instructions carefully because they give you a lot of helpful cues in regard to operation and maintenance specific to your device.
It's always a good idea to read the manual. It gives you many cues and hints on how to maintain your trap properly.
Most of the time I search for a spot in my yard that is protected from rain and sun to prevent damage from environmental stresses. During the first weeks I experiment with location until I'm satisfied with the number of caught mosquitoes.
Placement will greatly depend on your local environment, but here are a few guidelines that can help you:
Whenever possible, set the device up near mosquito breeding grounds to catch boatloads of critters.
Place the trap away from places where humans congregate because its lure will attract mosquitoes.
Choose a windless spot to prevent the CO2 plume from evaporating.
Observe when and where your local mosquito population gets active (some species only come out at dawn and hide in bushes during the rest of the time).
There can also be additional things to look out for so I recommend that you read your trap's manual carefully. Be sure to set your unit up early enough during season to dig to the root of your mosquito problem.
Normally mosquito traps are delivered without a propane gas tank. You will have to buy it on your own to make the device work. Tanks are standardize and available at many venues like gas stations.
Additionally, keep in mind that mosquito traps need some time until you see results. When you start during mosquito season it can take more than a month to experience a significant reduction in female mosquitoes.
If you're not satisfied with the results you can try to change the trap's location or buy another attractant that suits your local mosquito species better.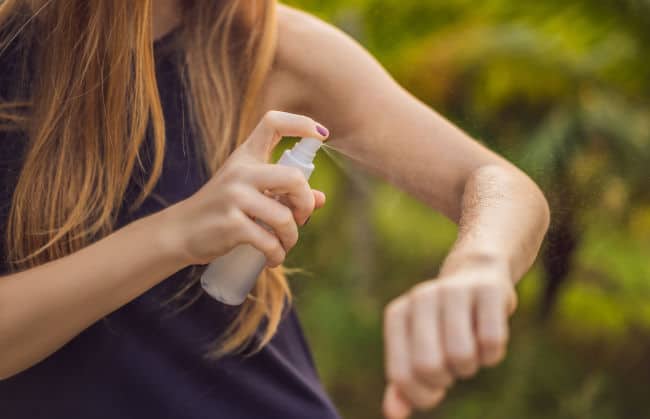 Diligence will pay off sooner or later. Most of the people I know see a remarkable reduction in mosquito bites after buying propane traps.
However they use it together with other tools (more on this topic below) to increase their mosquito killer's effectiveness. After you've found a place that works you just have to be attentive with replacements to keep your device running.
Maintenance and upkeep costs
As mentioned above, mosquito traps are not set and forget. Many first time buyers expect that owning such a device involves no effort to maintain it. However without routine replacements the performance will steadily decrease and you risk a breakdown.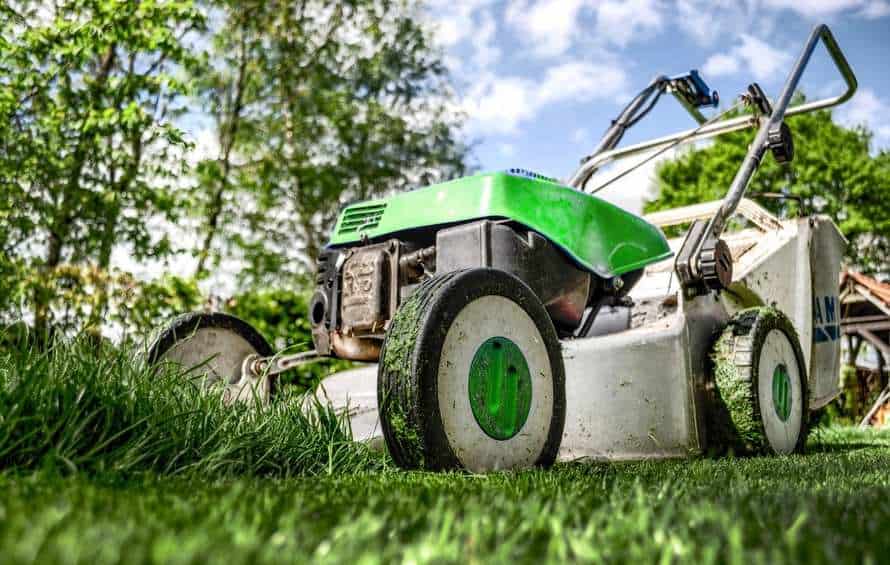 From my experience many people fail with this (or have false expectations before buying a propane gas trap) so I want to give you an insight what it takes to service my mosquito traps.
As a beginner you might need a bit longer than me but as soon as you get some routine, maintaining your trap will be an easy and hassle-free task.
Okay, so here is my normal schedule during peak season:
Every 3-4 weeks I have to replace the propane gas tank. A refill costs around $15 here. Devices like the Mega-Catch rely on actual CO2 that lasts longer and is a bit cheaper. Keep in mind that I let my units run 24/7 to get rid of as many mosquitoes as possible. If you live in a cool area or buy a trap with fuel saving modes the cost can be less.
Many devices need replacement nets. They get clogged with dead insects which can reduce airflow and thus performance. Sometimes you can clean and reuse them but from my experience you will need a new net from time to time. Most of them aren't cheap, my net budget is 10-20 bucks per month. I clean/replace them when I change the gas tank.
I highly recommend using an additional attractant like 1-Octen-3-ol or Lurex-3 because they enhance the catching rate significantly. They run for around $8 per cartridge and last a month.
Last but not least you need to clean your device and the tank's fuel nozzle from time to time. You can buy small CO2-Cleaners that do the job. These sum up to about $3 per month.
As you can see from this list, maintaining a propane gas trap involves a lot of routine replacements. The relief of a diminished mosquito population takes some effort and it costs a significant amount money.
My Mosquito Magnet and my Mega-Catch Ultra sum up to around $35 per month each. Furthermore I set aside one hour every four weeks to thoroughly clean them.
Owning a mosquito trap is not cheap. However it's way better than worrying about itchy bites and diseases.
In my opinion this effort is well worth the benefit of not getting bitten by mosquitoes anymore. I rather spend a buck a day and some time in my front yard than constantly worrying about dangerous diseases like Dengue or Zika.
Overall owning mosquito killer is definitely not cheap but I have yet to find a better alternative to propane gas traps. As far as I know carbon dioxide is the most effective lure used for attracting harmful critters.
Using indoor traps
Compared to outdoor units these traps are usually far cheaper and easier to maintain. Most of them just require replacement bulbs from time to time. Since there are no chemicals or gas tanks involved they don't need much babysitting.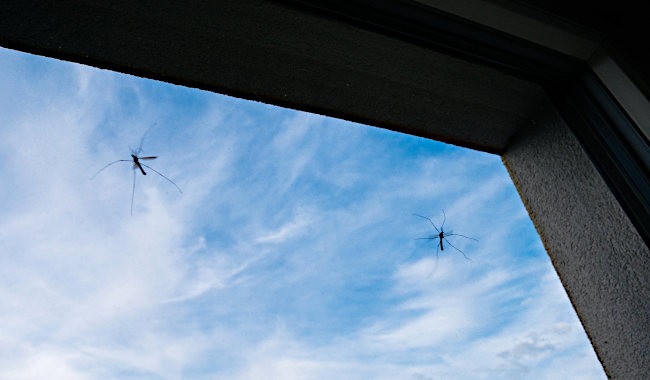 When dealing with bug zappers I have to clean the collection tray about 2 times per week. This task shouldn't take longer than a minute. As I mentioned before it's advisable to place the unit in an open spot.
When nasty bugs and high voltage meet it can get messy sometimes. From time to time I have to scrub burned remains off the floor.
Most UV-bulbs used for attracting bugs last a whole season before I have to buy new ones. They can be quite pricey and cost around $10 each (most products use 2 of them). All in all upkeep costs are considerably lower than with many outdoor devices.
Info: Most of indoor traps are hassle-free to maintain. Apart from cleaning they are basically set and forget.
That said I would recommend that you also practice other forms of mosquito control on your property. An indoor trap should be the last resort. In order to minimize the risk of mosquito borne diseases it's best to follow a more comprehensive strategy.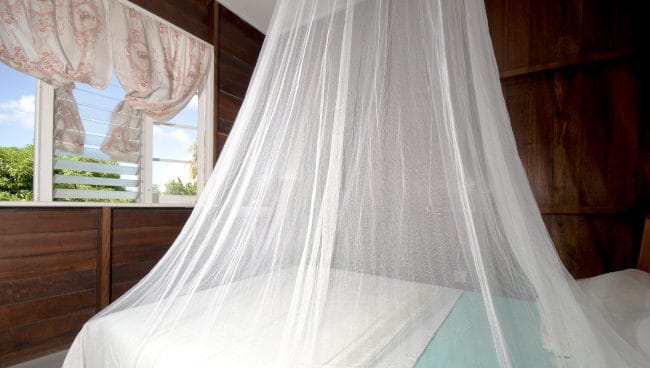 For example you could buy window screens for your doors to block annoying bugs from entering your home. Another good option is the use of mosquito nets that guarantee protection while sleeping.
Furthermore, there are many different products available that offer relief from mosquito bites. In the following section I want to give you an overview about the tools that work best for me.
Unbeatable Strategy For Home Mosquito Control
Every troubled homeowner knows that it's not easy to diminish local mosquito populations. Even the best traps sometimes can't deal with all critters flying around.
However I used the strategy outlined here with great success during the last years. To make it work it's important to not limit yourself to one tool exclusively. When dealing with mosquitoes it's best to have some options available.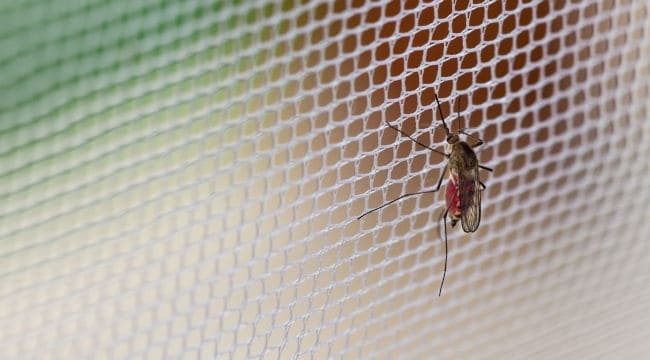 Know your enemy
It's helpful to understand that effective mosquito control begins before the little critters even hatch. One of the most effective ways to reduce the amount of mosquitoes swarming around is to get rid of their breeding grounds.
Take a walk around your property and check out spots with standing waters. Find and destroy wet grounds and habitats. Pools or ponds are a great environment for mosquito eggs.
Furthermore there are places that are less obvious like clogged rain drains, gutters, buckets or bird baths. The less chance you give the offspring to hatch, the easier dealing with grown up skeeters will be.
Additionally try to get rid of weeds, bushes or hatches that you don't need. Adult mosquitoes often hide in there until they can harass you and your family.
Talk with your neighbors to get rid of all breeding grounds in your community because the little bloodsuckers won't care about property borders.
Individual mosquito control has its limits but most homeowners can still take some steps to minimize the risk on their own property. I understand that it's not always possible to get rid of all hatching grounds: Nobody wants to sacrifice a swimming pool only because of nasty critters.
Fortunately there are some highly effective tools to stop mosquitoes that you can use.
Larvae Control: Digging to the root of the problem
You can prevent mosquitoes from hatching and kill their offspring before they can trouble you. How does that sound? There are some effective pesticides that can help to keep your property clean.
Before you get skeptical about spreading potentially harmful chemicals in your yard let me tell you that there are some natural solutions available as well. I personally use mosquito dunks and granules with great success. They contain dried bacteria only so they are deemed organic and biodegradable.

You just put them into stagnant waters to kill off the larvae during the early hatching stages.
If applied early enough at the beginning of mosquito season these organic mosquito killers will make your problem a lot smaller and easier to deal with. From my experience they can't get rid of all bugs but they diminished my home's mosquito population significantly.
I use the donut-shaped mosquito dunks for bigger waters and apply the smaller mosquito granules/bits around rain drains. They slowly dissolve over the course of 3-4 weeks before I have to replace them. To keep things simple I follow this task after I've maintained my mosquito traps.
Step 1: Use mosquito dunks to reduce the offspring. Step 2: Deal with the remaining adult mosquitoes.
While mosquito dunks have been shown to work as a highly effective tool against mosquito larvae they are not a magic bullet. You have to spread them diligently once a month during mosquito season.
Furthermore is not very likely that you get rid of all mosquitoes so you still need something like a trap to prevent the rest from biting you. That said mosquito granules are one of the best tools to avoid mosquitoes because they combat them before the troublemakers become a real threat.
Adult mosquito control
As you can guess from this extensive guide I rely mostly on propane traps to kill grown up mosquitoes around my home.
Together with mosquito dunks I managed to cut down on my local mosquito population until they don't bother me much anymore. I've yet to find a better alternative when it comes to effectiveness, use of chemicals and environmental impact.
No products found.
There are other tools like so-called mosquito foggers, also known as ultra-low volume (ULV) sprayers. They are used to spread a pesticide around infested areas to get rid of the little bloodsuckers.
While they cause only minimal exposure (the risk of pesticides is lower than that of mosquito borne diseases) and foggers help to reduce the number of mosquitoes I prefer to not apply too much chemicals near my home.
I frequently use these mobile devices around my cabin where not many people congregate. They are available in many different sizes: Public authorities sometimes use foggers as big as trucks to combat heavy mosquito infestations.
You can give them a try if you suffer from a very severe mosquito problem but usually I found a combination of dunks and traps to be enough.
No products found.
Most of the tools mentioned here are meant to be used long-term. If you just dig out your mosquito trap for a garden dinner with friends you can't expect to keep hundreds of mosquitoes at bay. These devices work by reducing the number of female bugs step by step over the course of weeks.
The same applies to mosquito dunks which have to get distributed frequently to work effectively against larvae. Unfortunately there is no short cut in regard to home mosquito control.
However putting this strategy into actual use is not a big deal, trust me. I recommend that you set aside 2 hours per month, mark the date in your calendar to apply this strategy and crush your buzzing enemies. Most of this stuff listed here works great but you as a homeowner are responsible for applying it correctly.
Your reward will be a home without swarming critters that bite you.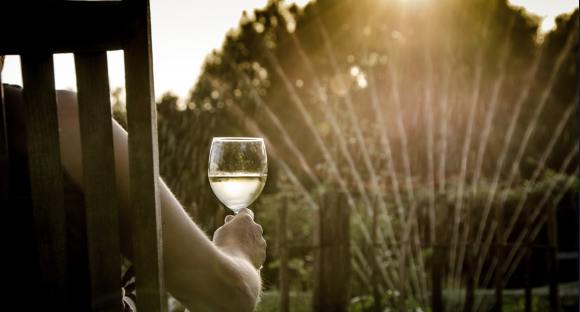 Imagine you sit outside in your yard with a cool beer and tell me that's not worth some effort – of course it is! Getting rid of boatloads of mosquitoes is doable. Follow the strategy here and claim your property back! You owe yourself a mosquito-free home!
Alternative solutions
There are some additional ways to battle mosquitoes around your home. Feel free to try them out but from my experience they will only work in combination with other, more reliable tools.
While mosquito traps and dunks bear some cost and limitations they have quite some scientific backup. However the tools mentioned below can be a useful addition for a comprehensive mosquito control management.
Does a homemade DIY mosquito trap work?
There are many tutorials floating around the internet that show how to make a cheap mosquito trap out of a plastic bottle and an attractant like sugar.
Articles like this or that give you some insight how this trap should work.

I tried to build one out of curiosity last summer and experienced meager results. Some flies, gnats and mosquitoes got attracted but they didn't get caught. Imagine some bugs swarming in front of your face, landing on your cup of coffee and then flying away without any harm done to them – that's how efficiently such DIY traps work.
Some research around the web showed me that I'm not the only one observing this, just check out these articles and disappointed comments. Save yourself the hassle and risk of getting bitten – better rely on something more effective like simple mosquito netting or traps.
Mosquito Repellent Plants
Many plants are known to keep all kinds of insects at bay. The most common factor that makes them effective are essential oils that repel mosquitoes and other annoying critters.
While herbs like citronella, basil or rosemary can prevent skeeters from biting you there's no guarantee that they will work under every circumstance.

Maybe a breeze weakens the essential oils' fragrance or false placement causes the scent to be not strong enough – there are too many uncertainties to rely on them.
That said many of these plants smell nice and look great in your garden so you may want to try them out apart from their repellent features.
Better stick to other options when it comes to mosquito control and consider it a bonus when there are less troublemakers flying around due to your gardening skills.
Ultrasonic devices
Some manufacturers claim that their products fight off mosquitoes without any chemicals, zapping sounds or maintenance needed. Products like the GADINO Pest Repeller got a lot of positive feedback from users who say it's working for them.
No products found.
However there is no scientific evidence that these ultrasonic devices really work against mosquitoes. It seems that these repellents only work if you believe strongly enough in them.
From my point of view you better save your money for another product to protect yourself. Fortunately there are many chemical-free alternatives available like bug zappers.
Mosquito Coil
Together with citronella candles they are one of the most-widely used area repellents on this planet. Millions of people rely on them to keep their houses free from skeeters. Due to their cheap price they are mainly used in South America, Asia and Africa.
After you light the coils they keep smoldering for about 4 hours. Their active ingredient keeps mosquitoes at bay and they are easy to use. As long as there is no strong breeze they work effectively against threatening insects. Consequently I take them with me during camping trips or when I want to keep a small area clean.

W4W Mosquito Repellent Coils
These Mosquito insect repellent coils should be used only outdoors. It is perfect to use for patios, porches, camping trips, pool areas, backyards and any outdoor activities.
Last update on 2023-12-04 / Affiliate links / Images from Amazon Product Advertising API
However there are some serious downsides as well. Don't use them indoors because the smoke bears health risks. I wouldn't want to rely on it on a daily basis because there are better options out there in regard to mosquito control capability and potential risks.
That said coils are capable of saving your garden BBQ when endless waves of mosquitoes suddenly attack your guests. They work almost instantly and quite reliably. That's the reason why I still keep some spirals at hand as a last resort. Feel free to check out this guide on mosquito coils for more information.

The most reliable option for individual mosquito bite prevention seem to be sprays though:
Repellents: A Quick Fix
Everyone encounters mosquitoes from time to time and on many occasions we can't be bothered with tedious mosquito control. Whether you get harassed by little critters in your yard or during camping trips, it's always advisable to have something available to fight them off immediately.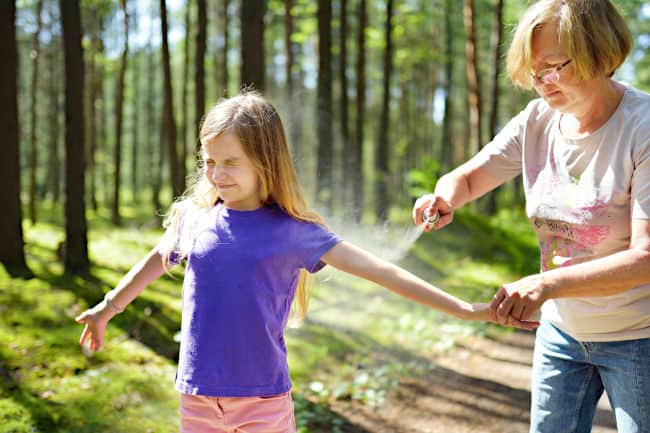 One of the most popular choices are repellents. More than 30% of the American people use them each year to avoid itchy bites and harmful viruses.
Their application is easy and they work almost instantly. The active ingredients are considered safe by the scientific community and governmental institutions. Even children are allowed to use it due to the low risks that come with repellent sprays.

Coleman 100% DEET Insect Repellent
The most concentrated deet insect repellent you can buy, up to 10 hours of protection, 98.11%.
Last update on 2023-12-04 / Affiliate links / Images from Amazon Product Advertising API
All of these points makes them a great choice for everyone who can't rely on mosquito control around their home. However I advise that you try to diminish your local mosquito population whenever it's possible. While repellents are safe and easy to use, they have to be applied frequently.
It can be a hassle to put them on your skin every time you go outside. Many products also have a chemical scent that you don't want to smell when you just want to relax in your yard. Although I'm a big fan of repellents during my outdoor trips I can't stand them in my home.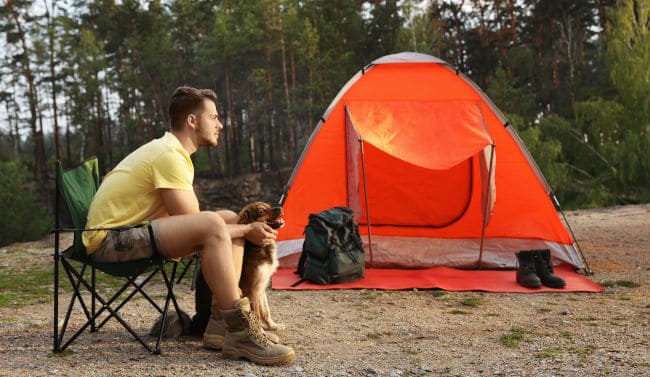 That's why I will always rely on mosquito control first. Repellents are an excellent fallback option but personally I don't want to stick to them on a daily basis.
In case you want to find out more about the best mosquito repellents check out my extensive guide that gives you an overview about the different ingredients and their effectiveness, risks and features. Everybody should have one spray at hand when everything else fails.
Wrapping it up
Okay, after all this information we are nearly done. If you feel a bit overwhelmed reading about this variety of options I would recommend that you start to pick a mosquito trap, get some granules for your yard and begin claiming your property back!
Choose a budget trap, highend trap or special indoor trap and follow my strategy guide.
Last update on 2023-12-04 / Affiliate links / Images from Amazon Product Advertising API
Everyone who follows my strategy will see the efforts paying off.
I know from personal experience that the methods laid out in this book sized article work in most scenarios.
Nobody needs to get harassed by nasty critters, especially not when staying outside their own home.
Mosquito traps are a powerful option against mosquitoes and one of the best tools available.
Just keep in mind that there is no magic bullet. Every solution requires you to get creative. Be diligent and experiment as much as possible until you get results that satisfy you. I began over 3 years ago and nowadays I can enjoy my mosquito-free yard every single time I step outside.
Just start NOW to fight off annoying mosquitoes and prevent harmful diseases threatening you and your family. Get a trap and bring some Mosquito Armageddon to your home!

Hi! My name is Mark and I'm an outdoor freak.
Visiting many exotic places around the world allowed me to gain some knowledge about effective mosquito control. That's why I decided to start this site and give you in-depth reviews regarding the best repellents and traps.
And yes, you may call me Mosquito Mark.