How to effectively fight off hard to see insects that annoy you.
Itchy bites and red welts out of nowhere – I'm sure you are familiar with those. No-see-ums are hard to notice and many people think they can't do anything about them. Wrong!
There are some working solutions against them but you have to choose the right repellent when it comes down to no-see-ums prevention. Bug sprays are a great way to keep mosquitoes at bay, but from my experience not all of them work with biting midges.
That's why I'm going to show you the best repellents to avoid itchy bites from sandflies and other no-see-ums. If you use them you will greatly reduce the risk of getting bitten by these little pests.
If you want to save your time, here's my favourite pick:

Avon Skin Insect Repellent Lotion
Works against mosquitoes and no-see-ums
Registered with the EPA
DEET-free with Picaridin
Last update on 2023-12-04 / Affiliate links / Images from Amazon Product Advertising API
Know your enemy
No-see-ums aka biting midges are little insects that breed near stagnant waters. They often get confused with mosquitoes but they are considerably smaller.
This allows them to get through mosquito screens and clothing so they can annoy you with burning bites. These bugs are suspected to carry diseases like the tete virus. So better try to prevent as many bites as possible.

No-see-ums are very hard to spot (you would notice the enlarged sandfly on the right as a tiny point on your skin) you only notice the nasty gnats after it's too late and your skin is littered with itchy rashes. Hence the name.
Unfortunately not all mosquito repellents work against biting midges and many get harassed despite having used a bug spray.
No-see-ums cause bright red welts which can be painful so it's advised to know how to stop them. From my experience the following repellents work best against them, so I'm going to start with my favorite sprays before I show you additional ways to get rid of them.
Info: Certain repellents are your best choice against no see ums.
The best repellents against no-see-ums
Florida is infested with sand flies, deer ticks and gnats so I had to find a working solution against No-see-ums.

I will share the best products which are effective against them. Keep in mind though that there are flying many different types of bugs around, over 4000 different species are expected to annoy people worldwide.
I never had any problems with my recommendations but sometimes you might have to try out different solutions if one doesn't work for your local gnats. That said I really urge you to pick one of the sprays reviewed below if you are getting harassed by no see ums. From my experience the following repellents work best against them. I've yet to find better ways to stay bite free.
My favorite pick against no-see-ums: Avon SKIN SO SOFT BUG GUARD
A DEET-free repellent that works effectively against all kinds of bugs that are not repelled by most other products on the market.

Avon Skin Insect Repellent Lotion
Works against mosquitoes and no-see-ums
Registered with the EPA

DEET-free with Picaridin
Last update on 2023-12-04 / Affiliate links / Images from Amazon Product Advertising API
Its active ingredient is Picaridin which is registered with the EPA. The concentration of 20% is a good balance between bug protection and minimal side effects. It's my preferred choice for environments with a lot of mosquitoes, deer flies and other nasty gnats. During my field trips it usually lasts for around 4 hours before I have to reapply it.
Picaridin is scientifically proven and usually causes biting midges to ignore you. It's one of the few sprays that has worked in every situation for me.  Repellents with DEET can work too but I noticed that they sometimes fail to keep off certain types of no-see-ums.
In addition Skin So Soft's scent is less chemical and it doesn't leave much of an oily screen on your skin. Picaridin is considered quite safe and you can also use it with children. I have yet to find another repellent that is so well-balanced in regard to no see um protection and low potential side effects.
Hint: if you want to know more about the different types of repellents and their effectiveness then check out this extensive guide.
Strongest spray that fights biting midges: Repel 100
I use this repellent when I visit high risk environments full of mosquitoes and other annoying bugs like ticks or chiggers.
It contains a lot of DEET and keeps harmful insects away for up to 10 hours. While I wouldn't use it on a daily basis Repel 100 is one of the few sprays that really works against no-see-ums.
Sale

Repel 100
Incredibly effective against mosquitoes and no-see-ums
For high risk, heavily infested areas
Lasts long and reliably
Last update on 2023-12-04 / Affiliate links / Images from Amazon Product Advertising API
The concentration of 98.11% DEET helps to prevent biting midges from harassing you. If you plan a trip to the Keys this is the right choice for you. However keep in mind that for everyday activities a spray with less DEET is usually the better choice because they have lower side effects.
In comparison to Repel 100 I found that sprays with less DEET are hit and miss when it comes to fighting no-see-ums. Sometimes they work but on other occasions they completely fail and your skin gets littered with burning bites. Better stick to this.
This spray works reliably and that's why I recommend it to everyone who needs the best protection available.
Natural sprays
There are also some natural sprays available to stop No-see-ums but from my experience they don't work as reliably as synthetic ones. Products with citronella oil can be effective for short amounts of time but some gnat species seem to be immune against them.
No products found.
Like lower concentrated DEET-sprays they seem to be hit and miss.
In case you prefer a natural, chemical-free solution against No-see-ums you can try them out but I recommend that you rely on a fallback option like the reviewed sprays listed above. They are not only effective against sandflies but have been scientifically proven to work best against mosquitoes as well.
Prevention works best
Your safest bet against itchy insect bites is to avoid harmful bugs at all. While it's not always feasible there are some steps to minimize the risk.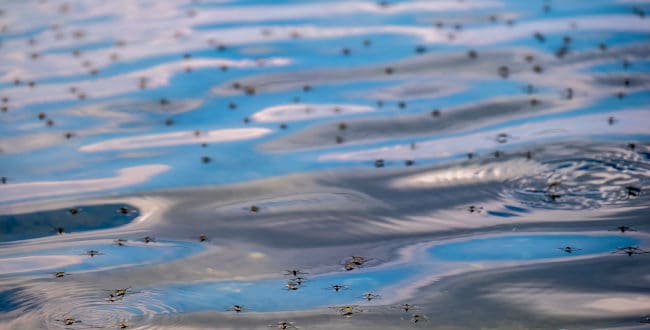 Try to avoid areas with stagnant waters or muddy soil because they are the perfect breeding ground for no-see-ums.
A breeze (from wind or electric fans) can it make hard for little midges to land on your skin.
Some people recommend lowering the air temperature because it helps to kill no-see-ums indoors.
Treat your bites as soon as possible. While the risk of no-see-um borne diseases is very low they can cause pain and itchiness. Treatment includes applying hot water to the welt (use Q-tips) or stronger remedies like Hydrocortisone Cream or Xylocaine Gel.
Other ways to stop No-see-ums from biting you
From my experience repellents work best. In addition you can rely on some other strategies to stop the nasty bugs from biting you.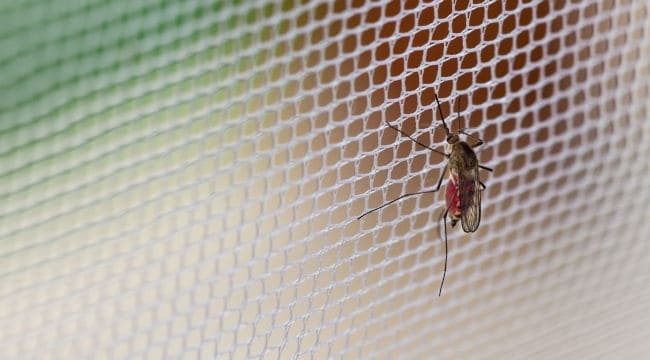 One effective tool is the right netting. If the mesh count is high enough they can be a great barrier against biting midges.
Be aware though that most normal mosquito nets let noseeums pass through.
Make sure it's stated on the package so you expect protection against no see ums.
I personally use this gnat tent to protect myself when I'm out camping. The mesh is tight enough to not only stop mosquitoes but also no-see-ums. Therefore it's a perfect choice for everyone who is concerned about all kinds of bugs when sleeping outdoors.
Additional netting is also available for windows and other spots in your home. Skeeta offers a big net that keeps no-see-ums out and it's Made in USA!
If you're not concerned about appearance you can also try special clothing for protecting yourself against the nasty 'jaws with wings'. This mesh shirt offers relief from all sorts of insects like greenheads or blackflies. Together with no-see-um-proof pants like these you can expect to stay quite safe even in high risk vectors.
Mosquito Traps are hit or miss. Some people report they help while others haven't noticed any effect on smaller crits. Give it a try, but you might need an addtional layer of repellent protection.
I found that walking around like a beekeeper is not a feasible option for me so I personally stick to repellents.
Summary
No-see-ums are an annoyance to every human being. Fortunately there are some sprays that work great against them. I advise you to try them out if you search for a viable solution against all sorts of gnats, ticks and biting midges.
Other options might work as well. However you should test them before you use them in high risk environments to avoid nasty bites.

Hi! My name is Mark and I'm an outdoor freak.
Visiting many exotic places around the world allowed me to gain some knowledge about effective mosquito control. That's why I decided to start this site and give you in-depth reviews regarding the best repellents and traps.
And yes, you may call me Mosquito Mark.