You want to relax on your sofa and all of a sudden you notice a burning feel on your skin – I'm sure you are familiar with this situation. Fortunately there are some effective solutions against bothersome insects infesting your home.
This guide gives you an overview about the best indoor mosquito traps available. I reviewed my fair share of devices and I'm going to tell you what's going to work for bug control. Find the best trap to make sure the little pests won't harass you anymore.
What you will learn:
Why you should use indoor traps
Mosquito borne diseases like Zika or malaria are a real threat and the best way to avoid them is to prevent harmful insect bites. Some of these critters eventually find their way inside our home so you need to get rid of them.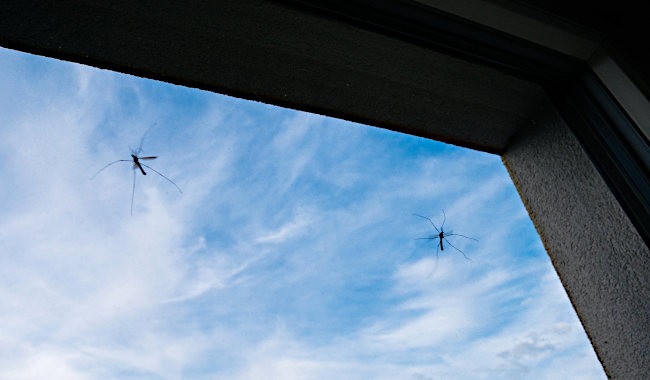 One of the quickest and easiest solutions against harmful mosquitoes are electric indoor traps. They are nontoxic, require minimal maintenance and they are easy to use.
Their light lures flying critters into a grid where they meet their doom. In comparison to many other tools indoor traps are chemical free and won't have any negative side effects in regard to your health.

Tiabo Indoor Insect Killer
Safe, chemical and odor free
Instant insect control
Covers large areas
Last update on 2023-05-25 / Affiliate links / Images from Amazon Product Advertising API
If you are worried about synthetic repellents this makes them the perfect choice for preventing mosquito bites in houses. Some homeowners also use them to keep their patio clean because they are basically set and forget.
Hint: Quick, easy to set up and without any harmful side effects for humans – indoor traps are great way to keep your house bug-free.
You just switch them on and wait until all attracted mosquitoes get caught and killed. The remains are collected in a tray which has to be cleaned once a day. While they still need some maintenance on your part not many other solutions for mosquito control are that easy and hasslefree to use.
Are electric mosquito traps effective?
From my experience electric insect killers are the best indoor tool that works not only against mosquitoes but also against many other bugs that fly around and can annoy you. I usually switch my trap on for two days a week and it gets rid of most insects in my house.
No more mosquitoes, flies or gnat harass me when I just want to watch a game. I've yet to find a viable alternative that is as effective in keeping my house mosquito-free as electric bug zappers. These devices just plain work.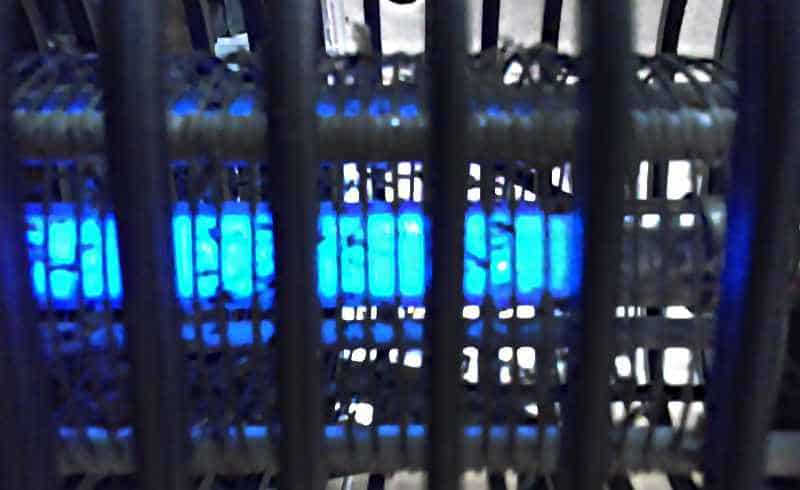 Keep in mind that I recommend them for indoor use only. Electric traps are so powerful that they not only kill annoying mosquitoes but also beneficial insects like bees or ladybugs.
If you clean your garden of those that can have a negative impact on your area.
There might be even more mosquitoes around because the bug zappers killed all the competition.
So better use other measurements regarding outdoor mosquito control.
My house however is no place for any bugs. I don't want insects crawling around my rooms so in that case I don't have any concerns about using electric mosquito traps.
They are very effective for small areas like rooms so choose them if need to keep your house mosquito and bug free. I'm going to show you the most recommended devices and some vital tips on home mosquito control.
Here are the best indoor mosquito traps
Top electric indoor killer: Aspectek Bug Zapper
This device attracts mosquitoes, flies, gnats and midges with 2 UV-bulbs and burns them upon contact. I use one in my living room overnight and it effectively gets rid of most annoying bugs flying around. It's a real lifesaver!
There are no chemicals involved and it's safe to use with children or animals. The hot bulbs are protected by a robust metal frame so it's very hard to accidentally burn yourself. If you are concerned about children there's also a strap that allows you to hang the device above the ground.
Sale

Aspectek Electronic Bug Zapper
Very effective against all kinds of bugs
Nontoxic and free of chemicals
Easy maintenance
Last update on 2023-05-24 / Affiliate links / Images from Amazon Product Advertising API
The effectiveness against mosquitoes and the decent build quality are well worth the price of around $35-40. Of course it comes with a neat collection tray for all burned insects. After getting zapped the remains fall straight down and land there so the mess is easy to clean.
Most of the time the device is very silent. Only when a mosquito meets its doom you can hear a zap sound. It's noticeable but not very loud. You will quickly get used to the very satisfying sound each time when there's one bloodsucker less in your home. Use it at night when the light is most effective for attracting insects and you will be fine.

One downside I found during my review is that burned insects sometimes land besides the device. I guess it can happen when high-voltage and nasty skeeters are involved.
So far it's not that big of a deal because it's very easy to clean the area around the zapper. In comparison to other solutions this doen't require a lot of work to do.
Another thing to look out for is the bright light of the UV-bulbs. It's definitely not meant to be used in bedrooms. However it works great in the living room.
It will diminish your house's whole bug population over time as more and more critters get lured into the trap. Nowadays I only switch it on every second day because it gets rid of them so fast.

Bug Zapper Replacement Bulb
10W UV replacement bulb
13×1 inches
Easy to replace
Last update on 2023-05-24 / Affiliate links / Images from Amazon Product Advertising API
If you get harassed by mosquitoes and other bugs I recommend that you try out this indoor trap because it works great against them. Set it up in your living room and you can say goodbye to any annoying insects. Buy this zapper now to give it a workout during mosquito season.
Hint: Use indoor zappers in very dark rooms to get the most effective mosquito control. They attract a lot of bugs if they don't have light competition.
Personal mosquito defense: Elucto Fly Swatter
This racket is the perfect choice to give annoying insects what they deserve. You switch it on and the electric grid will do the rest. It's very easy to catch insects and kill them quick. The best thing: it really feels like revenge!
While this tool can't compare to bigger indoor traps it's definitely one of the most satisfying zappers against mosquitoes out there. I keep one around my computer in case a little pest is lunatic enough to annoy me.
There's a green light which indicates the racket is on. I found that to be very useful because you don't have to guess if the grid is working.
No products found.
Elucto Swatter runs on batteries and the electric mesh will shock you if you touch it. It's strong enough for little insects but I guess it's not very likely that you can seriously injure someone with it. However I would recommend that you keep it away from children, this device is not a toy.
The racket comes in a handy size so you can also keep it in your car. Overall it's a great little product that helps you to get rid of that one annoying mosquito. I wouldn't rely on it solely but this electric swatter is the perfect fallback option.
If you enjoy giving annoying pests what they deserve, this anti-mosquito zapper is the right choice for you.
An alternative tool in review: Katchy Indoor Insect Trap
This tool attracts mosquitoes and other insects with a UV-light as well. However there are some differences when it comes to actually killing them. Instead of a grid where bugs get roasted the Stinger device has a fan which draws them to its internal trap. Without food the caught critters meet their doom.
The design is appealing. As opposed to a bare grid the Katchy trap's appearance resembles that of a tower. Due to the less intrusive 5W lightning this trap can also be set up near bedrooms (it's comparable to a sleep light) and it definitely looks better than many other tools.

Katchy Indoor Insect Trap
Effective against all kind of bugs
No burned mosquitos around
Safe for all the family
Last update on 2023-05-24 / Affiliate links / Images from Amazon Product Advertising API
During my review this indoor killer lured mosquitoes, fruit flies and even no-see-ums into its trap. I still got annoyed by a buzzer here and there but overall I am quite satisfied with the result. It seems to effectively get rid of a lot of bugs that otherwise would annoy you. Once placed in your room the trap takes care of anything that flies.
In comparison to the trap above the Katchy device seemed a bit less effective against mosquitoes though. The majority of caught insects were other bugs.
If you want an indoor killer for insects this is okay but if you specifically suffer from a mosquito problem you might want to opt for a different device. That said it still traps some mosquitoes and is very easy to use.
Hint: Katchy trap is more of an insect killer than an actual mosquito killer. Consider it if you suffer from a general bug problem.
One advantage over bug zappers is that there are no loud sounds because no bug gets grilled. In case a midge or gnat flies too close they get sucked in.
You will only hear the fan which hinders bugs from escaping. While its sound is noticeable I haven't found it to be obtrusive.
The internal trap also means less of a mess because there is no high voltage involved. The bug's remains stay inside until you open the Katchy killer to clean it.
Overall you can give this device a try if you want to get rid of all sorts of insects in your home. It's not too expensive and has been proven to work effectively against biting insects. Buy it if you like the concept of an internal trap more than a mosquito zapper's roast.
Info: Be sure to try other tools for effective mosquito control as well. Mosquito granules can diminish your garden's bug population. It's far easier to keep off the small rest than hordes of grown up mosquitoes. Propane traps are great for outdoor use.
Outdoor and indoor: Flowtron BK-15D Electronic Insect Killer
A great choice if you want to have something for your home as well as outdoors. This device comes with a solid aluminum grid and a bright bulb in the middle. It works like the bug zapper you know already. Nasty insects are lured near the light were they get roasted.
In comparison to the traps above the Flowtron has a brighter light to attract more critters. It's actually considered an outdoor device but I found that it works effectively in big indoor areas like garages or basements too.
Sale

Flowtron Electronic Insect Killer
Attracts and kills mosquitoes
Outdoor and Indoor use
Can save your garden BBQ too
Last update on 2023-05-24 / Affiliate links / Images from Amazon Product Advertising API
Its construction is durable and it's heavier than most other indoor insect killers. I use one in my workshop and it helps to keep the area free of mosquitoes and moths when I'm not there.
I clean the device weekly because with time the grates around the bulb will become clogged with bug remains. Besides that there is not much maintenance needed.
Overall I'm really satisfied with the bug killer because it allows you to be flexible. You can use it indoors and take it outside when you have something like a garden dinner. If you primarily look for a solution that keeps your house mosquito-free I would recommend that you pick one of the choices above though. The Flowtron shines when you need it in different scenarios.
Other options for indoor mosquito control
From my experience electric indoor killers work best. They contain no chemicals and are quick and easy to use. Despite their effectiveness you might want to choose another option when there is no space for such a trap.
I have used Pest Strips with some success before. They are very effective against fruit flies and sometimes catch mosquitoes too. Keep in mind that they can't compare to traps but if you don't suffer from a major back problem they might be enough.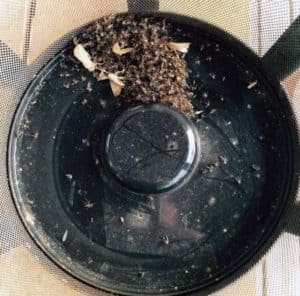 There are also several Ultrasonic Pest Repellers out there. First of all I want to say that there is no scientific evidence that they work against mosquitoes. However I found that in some cases they repel insects, spiders and other pests effectively.
No products found.
So far there are numerous users on Amazon that say the device works fine for them. If you search something for your bedroom this is the right choice for you. You just have to plug them in and they work without any noise or chemicals.
Therefore ultrasonic repellers can be a viable alternative for everyone who is concerned about bright lights or zapping sounds.
Hint: Don't rely on just one solution
Even the most effective tool can't get rid of all mosquitoes. Despite indoor traps being the most effective instrument for your home you'll need to combine several steps to control your property's skeeto population.
Indoor traps are a great choice to prevent nasty bugs from biting you but it's even better to dig to the root of the problem before mosquito season.
Try to get rid of all breeding grounds on your property and apply mosquito dunks. Use insect netting to create an additional barrier.
Make sure that you have set up your electric traps correctly and rely on a fallback option.
Always have a powerful repellent if you get surprised by bugs.
Talk with your neighbors to destroy all breeding grounds in your community.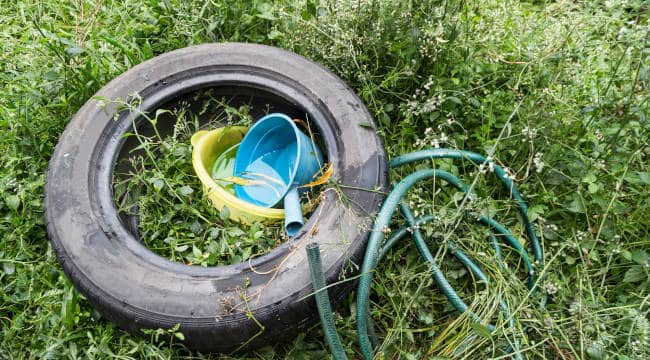 There is nothing like 100% safety. However if you follow most of these steps you can minimize your risk of mosquito borne diseases. I personally live in a heavily infested area myself and most of the time I don't have to worry about any buggers.
Summary
Mosquito indoor traps have been proven to be one of the most effective instruments against bugs in your home. I use them with great success for indoor mosquito control and have yet to find an alternative that manages to kill as many nasty insects as these devices.
I recommend you buy one if you suffer from annoying bugs in your living room, bed room or around your patio. They are easy to maintain and keep most mosquitoes away from you. Once they are installed you can say goodbye to itchy bites, red melts and buzzing sounds in your home.

Hi! My name is Mark and I'm an outdoor freak.
Visiting many exotic places around the world allowed me to gain some knowledge about effective mosquito control. That's why I decided to start this site and give you in-depth reviews regarding the best repellents and traps.
And yes, you may call me Mosquito Mark.