Here are the most powerful products available to stop annoying mosquitoes from harassing you.
There are situations where you want something more effective than your usual bug spray. You need the best anti-mosquito repellents that we currently have.
Let's start:
If you just want to go camping with your family this one might be overkill but I used it with great success during trips to other countries and even a safari in Africa.
It's my favorite spray when visiting high risk environments:
Repel 100
It contains 98,11% DEET, which is widely considered the most efficient ingredient we know to keep little bloodsuckers at bay.
When you are outdoors this repellent not only fights off mosquitoes but also other insects like the Florida deer fly.
Sale

Repel 100 Insect Repellent – 98% DEET
Incredibly effective against mosquitoes and other bugs
For high risk, heavily infested areas
Lasts long and reliably
Last update on 2023-09-19 / Affiliate links / Images from Amazon Product Advertising API
Once on your skin you stay mosquito free for up to 10 hours which is longer than with most other sprays.
Not once was I bitten by anything that flies after I treated my skin and clothing with it.
If you're going to visit mosquito vectors with severe conditions this is the right choice for you.
However this monster has some downsides as well.
Due to the high concentration it's aggressive on synthetic clothing and paint (you don't want to touch your car). It feels a bit greasy on your skin first but it gets better once it dries. Some users can also experience skin irritations because it is so strong.
That said I rather experience some side effects than risk getting bitten by hordes of little bloodsuckers. Available in 4oz bottles.
It's overkill, it's powerful, it's working. Considerably stronger than your usual mosquito repellent.
Coleman 100 Percent Max
Another contestant for the most effective mosquito repellent out there. Say goodbye to mosquitoes, flies, gnats, chiggers, ticks and fleas.
Don't forget this stuff when you visit an area full of jaws with wings. It's powerful and reliable.

Coleman 100% DEET Insect Repellent
Maximum DEET concentration
Keeps you as safe as possible everywhere
Available in smaller sizes too
Last update on 2023-09-23 / Affiliate links / Images from Amazon Product Advertising API
Coleman 100 is a long-lasting mosquito repellent and so strong that it keeps you mosquito-free for hours.
Choose this one for trips to heavily infested areas that might risk your health. While lesser concentrated products are suitable for occasions like shopping or relaxing in the garden this one gives you excellent protection even in rain forests.
In comparison to the spray above this one is not only available in a 4oz bottle but also a smaller 1-ounce pump.
Sure, it's not smelling like perfume but it keeps you safe from all sorts of bites. Due to the high concentration you should be careful where to apply it.
Similar to Repel 100 it's best to avoid putting it on synthetic materials or finished wood because it's quite aggressive.
The only downside I discovered is the pump mechanism which is a bit hard to use when your fingers are oily.
Overall I was very pleased with this product during my field review with it. I can't think of many other repellents that work as thorough as this one. If you ever want to visit the Everglades without getting harassed by thousands of mosquitoes you should try Coleman 100.
It's overkill and that's why I like it. Not many repellents protect you as effectively and long-lasting.
Sawyer Products Premium Maxi-DEET
This spray comes with 98% DEET as well which makes it one of the most powerful options for personal mosquito control.
When you are out in the jungle this repellent guarantees long-lasting protection against a lot of biting insects, including mosquitoes. In comparison to the sprays above I really liked the bottle which is a bit easier to handle than its competitors.
The pump mechanism works great, even with oily fingers.
Sale

Sawyer Premium Maxi DEET Insect Repellent
Strong and very effective – 98% DEET
Great pump mechanism
For short and medium trips
Last update on 2023-09-19 / Affiliate links / Images from Amazon Product Advertising API
It smells a bit like medicine and you don't want to get it in your eyes or on your lips. Be careful when you apply it and you most probably will be fine though. When dealing with DEET it's important to distribute it correctly to minimize the risk.
However what might be unpleasant for you will turn out to be great barrier for mosquitoes. Once on your skin or clothes you can say goodbye to most annoying insects.
The only real disadvantage is spray's greasy texture it leaves on your skin. This gets better with time but you can still feel the oily screen. The alternatives (nasty mosquito bites) are way more bothersome however.
Another great pick for extreme environments.
Do I need such powerful sprays?
As I mentioned before these repellents are the most powerful choices available. They helped me to stay safe on several outdoor trips in South America, Africa and Southeast Asia.
While they work perfectly in the jungle you might not need them for most activities in the States.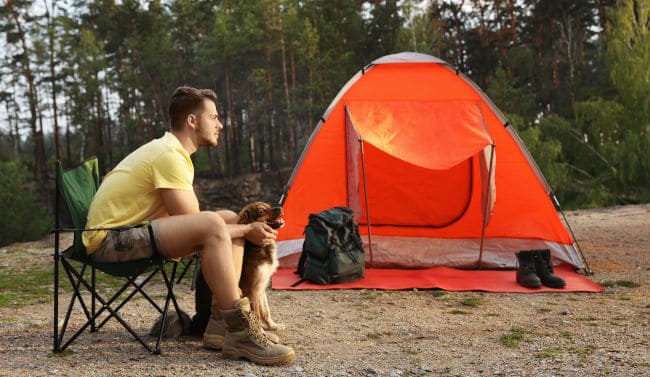 When you are camping with your family or having a BBQ with friends you will stay fine using DEET concentrations around 20-30%. The effectiveness is comparable but you have to reapply them more often because they tend to protect you shorter.
A big advantage is that you minimize the potential side effects of DEET.
30% are less likely to cause skin irritations and don't smell as strong as high-concentrated sprays.
You can also use them together with the rest of your family (even kids) so I recommend you try lower concentrated sprays if are not planning to visit high risk environments.
One well-balanced spray is Cutter Backwoods Dry 25-Percent DEET.
Sale

Cutter Backyard Dry Insect Repellent 25-Percent DEET
Very effective against mosquitoes and bugs
Dries fast without a greasy screen
Smells better than most sprays
Last update on 2023-09-23 / Affiliate links / Images from Amazon Product Advertising API
It provides good protection from mosquito bites and can be used with children too. This is the right choice for everyday activities that don't demand the power of high concentrated repellents. Feel free to check out my detailed guide on repellents for more information.
If you head right into the jungle feel free to buy one of the monsters listed above though. I have yet to find anything that works better or longer against mosquitoes and other bugs.

Hi! My name is Mark and I'm an outdoor freak.
Visiting many exotic places around the world allowed me to gain some knowledge about effective mosquito control. That's why I decided to start this site and give you in-depth reviews regarding the best repellents and traps.
And yes, you may call me Mosquito Mark.