I'm sure you are worried not only about the harmful diseases carried by a lot of bugs but also the possible side effects of insect repellents. Most of these sprays have a strong chemical scent that surely can't be good for your kid, right?
This article gives you an overview about the sprays' safety and correct use. I will not only show you how to diminish the risk of exposure but also how to choose the best spray to protect your kid from dangerous insect bites.
Mosquito control without chemicals
Besides using repellents there are a number of ways to minimize the risk of insect bites. These measurements alone won't provide 100% safety but they can help you to cut down on the use of mosquito sprays your baby needs.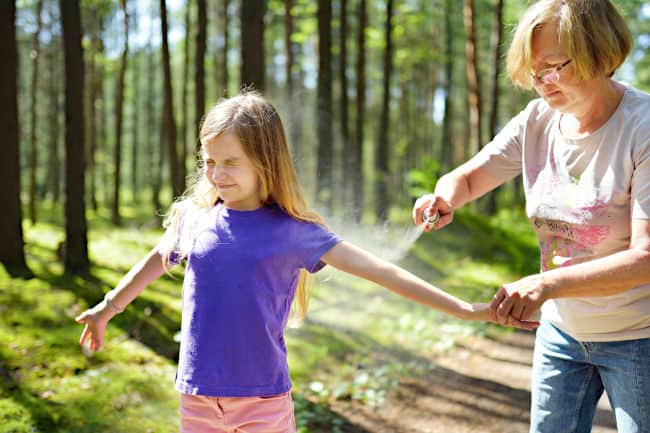 Try to cover up as much skin as possible. Mosquitoes have a hard time to attack skin which is protected by an additional layer of clothing. You can get creative, for example there are mosquito nets available for strollers to protect your toddler.
Get rid of standing waters in your garden. These places are the perfect breeding ground for mosquito offspring. Check ponds, buckets or fountains. Some places on the internet recommend putting baking soda into the water to kill the mosquitoes. Feel free to try it out.
Avoid certain areas with your children. Whenever possible, try to stay out of try to stay out of high risk environments. Sometimes it can help to let your infants play a few yards further away.
That said none of these methods guarantees a 100% protection rate from mosquito bites. In order to fight off insects effectively you most probably need a good insect spray.
What is the best insect repellent for kids?
There are numerous different ingredients on the market but only a few are scientifically proven to prevent mosquitoes from harassing you and your child.
So be careful with products that have no evidence of effective protection. You put your child's life at risk. Stuff that works includes:

DEET
Since it has been invented 50 years ago DEET has become America's favorite pick regarding the prevention of mosquito bites.
Sprays with it usually contain between 10% and 50% of the active ingredient. Once on the skin it helps to keep mosquitoes at bay for hours.
Many consider it the best repellent we currently have because it provides thorough protection against many kinds of dangerous bugs.
Some users experience side effects like skin irritation but generally most people stay fine.
The Environmental Protection Agency (EPA) has approved it for use on children with no age restriction. Scientific studies have not shown any additional risks for kids or babies.
For more info about this topic check out our article about DEET safety. To sum it up, DEET has a very low risk in comparison to the harmful diseases it helps to prevent.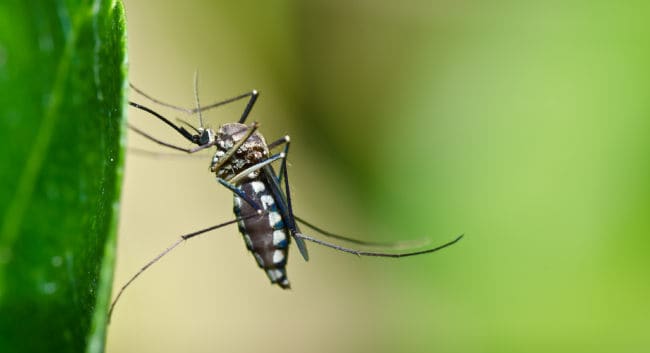 Nonetheless it's wise to stay on the safe side. From my experience DEET sprays with 30% or more do not provide better protection but just last longer.
If you reapply the spray carefully you don't need high-concentrated repellents for your family. So better opt out for sprays around 20-30% to minimize the risk of side effects.
The American Academy of Pediatrics (AAP) also recommends sprays with concentrations of no more than 30%. They advise to use DEET with infants over 2 months old.
While you might still want to use it on your toddler's skin and clothes when you are in high risk vectors, it might be best to avoid dangerous areas until that age.
I personally have used DEET for many years and I have yet to find anything more effective. According to scientific studies it can be used safely with children over 2 months.
Cutter Backwoods Dry 25% DEET
It's a perfect choice for families because its active ingredient 25% DEET provides a good balance between mosquito protection and minimal potential side effects.
Sale

Cutter Backwoods Dry Repellent
For the whole family
Effective for up to 10 hours
Repels many kind of bugs
Last update on 2023-09-23 / Affiliate links / Images from Amazon Product Advertising API
There are sprays around with less % of DEET but from my experience they last a bit too short. Furthermore the rest of the family can use this spray as well.
From my experience using the same repellent has a lot of advantages: first you have to carry only one bottle which is convenient when you do some hiking.
Another great thing is that your family members can reapply it at the same time. You don't get confused by different protection times. If you're exhausted from hiking and watching the kids this is a big one, trust me.
Last but not least Cutter Backwoods Dry has some great features that make its application very easy. The texture pleasantly dry and makes your skin not as oily as many other repellents.
That's why this spray is a top pick for families because it fits most outdoor activities.
Sprays vs. Wipes
Another great tip is to look out for mosquito repellent wipes. While sprays are my favorite choice for most areas of the body, repellent wipes shine when you want to protect your baby's face.
Even some grown-ups prefer the convenient application of those products. They are less messy than liquid solutions.

Off! Deep Woods Insect Repellent
12 individually wrapped towlettes

Convenient to carry around
Repels many kind of bugs
Last update on 2023-09-23 / Affiliate links / Images from Amazon Product Advertising API
If you still have doubts regarding DEET, there are some viable alternatives out there:
Picaridin
Picaridin is a synthetic and new alternative to DEET. Picaridin in concentrations of 20% seem to work as effective as repellents with the same amount of DEET.
For those who are worried about the most established insect repellent this might be the right choice.
Picaridin causes less side effects and smells nicer than sprays with DEET. From my experience though you have to apply it more carefully.
If you miss one spot it seems to be less forgivable than DEET. That said if you treat your baby's skin thoroughly it can be a viable alternative that gets rid of mosquitoes effectively.
Sawyer Products SP544 Premium 20%
This spray with Picaridin is a great replacement for lower concentrated repellents with DEET.

Sawyer Products SP544 Premium 20%
Effective up to 12 hours
Safe to use on the whole family
repels disease-carrying mosquitoes and ticks
Last update on 2023-09-23 / Affiliate links / Images from Amazon Product Advertising API
A great alternative for all parents who are worried about the possible side effects of DEET. The active ingredient Picaridin is approved by the EPA too. It seems to protect comparable to DEET while smelling nicer and leaving a less oily texture on the skin.
In comparison to Cutter Backwoods Dry this spray tends to last a bit shorter. However it's still more than enough for a normal day trips in areas full of mosquitoes. You can give it a try if you have concerns against the repellent mentioned above.
IR3535
Another great working ingredient approved by the EPA. In comparison DEET sprays with this compound tend to smell nicer. This might be an advantage if you baby doesn't like the chemical scent of other repellents.
From my experience it lasts long and helps to prevent mosquito bites effectively. Our pick might Save & Exit be the right choice if you are searching for a DEET-free spray that fits the whole family.
Coleman Skin Smart DEET-Free Spray
This repellent is a DEET-free alternative with long lasting protection from mosquitoes.
No products found.
Due to the active ingredient IR3535 this spray is almost odorless and dries faster than many other repellents. In comparison to DEET this spray needs to be applied more carefully. If you miss a spot the mosquitoes will find it.
One big advantage is the long-lasting protection though. From my experience the little bloodsuckers leave you alone for about 4-5 hours. That's great for outdoor activities with the family.
Natural mosquito repellents
The only non-synthetic (natural) mosquito repellent approved by the EPA is Oil of Lemon Eucalyptus. However be careful to not use it with children younger than 3 years old. It can cause some serious side effects on the sensitive skin of babies.
From my experience a lot of these products also contain a high amount of alcohol which might irritate your kid's skin.
I would recommend that you switch to one of the sprays above. If you want to read a more about this topic, check out our extensive guide on mosquito repellents.
Other alternatives
Maybe you have heard of other types of repellents too. I'm talking about wristbands, plant oil mixtures or citronella oil. While they can work in some cases they don't provide reliable protection from dangerous diseases.

Some of them might also have serious side effects or not work at all.
The effectiveness of natural plant oils for example highly depends on the plants used, correct formulation and even the ingredient's age.
It's a bit like playing Russian roulette with your family's life. I highly recommend that you choose one of the ingredients mentioned before because they have a lot of scientific backup.
Furthermore it's wise to stay away from products that combine sunscreen with insect repellents. Sunscreen needs to be reapplied more frequently so you increase the risk of a repellent overdose.
Minimize the Risk
Make sure to always read the label carefully and apply the repellent correctly.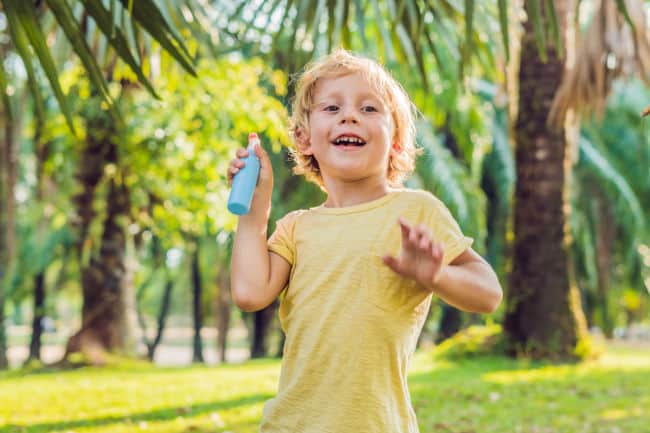 According to the EPA this keeps the risk of side effects very low. There are additional practices you can follow to keep your baby safe, the most important ones are:
Never let your children use mosquito repellents alone
Cover up all exposed skin but don't overapply the repellent
Spare the mouth and eyes. Don't apply it on hands if your kid touches the face or mouth with them.
Do not use it on damaged skin
Conclusion
The list of mosquito repellents is long, but not all of them protect your baby equally effective. The best way to prevent mosquito bites is to use ingredients that got approved by the EPA. As long as you stick to them and apply them correctly you minimize your child's risk in regard to mosquito borne diseases.

Hi! My name is Mark and I'm an outdoor freak.
Visiting many exotic places around the world allowed me to gain some knowledge about effective mosquito control. That's why I decided to start this site and give you in-depth reviews regarding the best repellents and traps.
And yes, you may call me Mosquito Mark.